Oh dear, poor Liz is back in hospital.
It started last Friday, but for some time Liz has had some pain in her left shoulder, which we were waiting for the next visit from the physio to sort out. On Friday Liz told me that she was having difficulty with her left arm – she could only lift it so far. As Friday and Saturday wore on it got worse until on Sunday morning, she could barely lift her arm out sideways at all.
Then she dropped in the fact that it wasn't pain that was stopping her lifting it, it was simply that her muscles wouldn't do it. Her arm had plenty of movement available – I could move it for her – she simply couldn't.
This frightened me as it was distressingly similar to how her legs went when she had compression of the spine this time last year so we immediately called her emergency contact at the hospital who told her to come in.
We arrived at the madhouse that is the Medical Assessment Unit at the Royal Derby, to find the usual long queue, but Liz was seen by a doctor in pretty quick time (actually within an hour, although it didn't seem that quick at the time) who established that she still had all other movements in her arm, she still had feeling in all parts of her arm, and that the reflexes in her left arm were normal. This was encouraging, and he was of the opinion that the problem was muscular rather than neurological, but sent Liz for a CT scan to check. Two or three hours later, the scan was complete, and apparently showed nothing, so, with a diagnosis of a muscular problem, we went home.
Quite fortuitously, Liz's physio was due to visit the next day, Monday, which, as it turned out, was very lucky. She examined Liz and quite quickly came to the conclusion that the problem did not appear to be muscular. She consulted by emergency phone call with a friend who is a sports injury physio to confirm that it couldn't be a couple of other things that weren't within her speciality and came back to the conclusion that there was indeed paralysis in that arm. The big concern then was that there might be a hairline fracture of the neck, which was very worrying indeed, as any disturbance there can result in total paralysis.
More frantic calls to Liz's emergency number and she had to go in again. However, we agreed that rather than me taking her in, it would be safer if we waited for an ambulance, when she could be fitted with a cervical collar and "boarded" – laid on a rigid flat plastic board.
The ambulance duly arrived, and carried Liz off, in some considerable discomfort unfortunately as the "board" was not designed for people who had the kind of spinal curvature from which Liz now suffers. After half an hour of this in A&E, an A&E consultant allowed her off the board, and, after some toing and froing she was admitted to the spinal ward at around 5 o'clock yesterday afternoon.
The A&E consultant had looked at her past notes, an x-ray she had very recently of her entire skeleton (a skeletal survey), and a recent MRI scan and said that he could see no more myeloma damage, which was encouraging, but that there was some "wear and tear" on her upper spine. We know about this as, for many years now, Liz has suffered upper back pain, and has visited the chiropractor pretty well monthly throughout that time for treatment, so it may be that this problem is related to that, rather than to last year's episode, and that the timing is just an unhappy coincidence.
Throughout all this we got the impression, more and more, that each person who looked at her thought this was not as serious as we had been imagining, which was comforting. Then, at about 8 o'clock last night Liz had a visit from another doctor to say that the (spinal) consultant had looked at her notes, the skeletal survey, and the recent MRI scan and decided that this was not an emergency, that he would see her this morning (Tuesday), and that another MRI scan would be organised in due course. All of which made things less worrying.
So. There we are. As of this morning, Liz is in the spinal ward at the Royal Derby with a cervical collar awaiting a visit from the consultant, and possible further spinal surgery.
I will keep this diary up to date daily as things develop.
P.S. Liz is finding texting painful, and there is no wi-fi so, while she is very happy to receive texts and gets her emails periodically, please don't expect too much in the way of replies.
Not much happened yesterday.
At 7 o'clock yesterday morning, according to Liz, the consultant "swept into the ward like a whirlwind, with an entourage of seven or eight lesser beings". He said that he wasn't sure it was spinal but might be something which he said in Latin to the entourage, (and translated to Liz as "an injury"), that they would only be able to tell when the MRI scan was back, and then he swept out again.
Poor Liz had been asleep when all this sweeping was going on so didn't ask for any details about what "an injury" might be so had to ask the ward sister later on. Apparently it might be muscle damage rather than nerve, and that was all we knew at that point.
A bit later, Mr Bommiredy, who did the wonderful job on Liz's back last year, also came in to tell Liz that he had looked at all the x-rays, CT scans etc. and declared himself very pleased with the results of his handiwork and, when asked about "an injury", that if it were muscular they could just stitch it up again.
She was left with an impression of egos and competitiveness, but to be fair, enormous competence, and for both of us, certainly, the competence far outweighs anything else. We decided some time ago that neither of us needed bedside manner from a surgeon, just clinical decision making and skill. When we need bedside manner, we would probably turn to a nurse.
However, all of that really only amounted to "we are waiting for the MRI scan" but since Liz has been declared a non-emergency, she is not at the top of the list, and yesterday was the first working day after a 4 day Easter break.
So there she lay. Flat on her back, uncomfortable in her collar, unable to move her head, staring only upwards at the ceiling, unable to see anything that isn't held above her and unable to hold much above her as she can't use her left arm. Eating and drinking are both difficult as she can't see the plate or cup (she dropped half a tomato down inside the collar yesterday and spent some time trying to fish it out), and drinking everything through a straw. Texting is extremely difficult as she has to hold the phone above her head with her non-working left arm.
That was yesterday really. Uncomfortable, not really able to do anything and waiting for the call to the MRI with no idea when it might come. Even the ward staff say the first they will know of it is when a porter arrives with a trolley. So please send her your good wishes but please don't hope for a reply.

More tomorrow.
Nothing at all happened yesterday.
At 07:00 Mr Calthorpe and entourage did their sweeping thing (see yesterday) and said that Liz was now top of the non-urgent list for her MRI, but it still didn't happen. Let's hope she gets it today.
Her shoulder got quite a lot more painful on Tuesday night, so I suggested that she ask for stronger painkillers, and she is now on a small dose of morphine, which is keeping the pain at bay, and Liz more cheerful. You will be pleased to know, however, that there is no sign yet of the return of "Morphine Lil", the doped up, zonked out, Liz of this time last year.
The "injury" mentioned yesterday turns out to be, we think, a brachial plexus injury. This is the nerve system that runs from the spine across the shoulders and can be injured by trauma, but what the treatment might be we don't yet know.
More tomorrow.
Good news – she's home.
Liz had her MRI scan late yesterday morning and it was all clear for the spinal damage which everyone was worried about. Within minutes of the good news the collar was off, and Liz was being discharged. After three days of lying immobile, staring at the ceiling, it was a happy moment.
It was decided that it is damage to the brachial plexus(?) which is the bundle of nerves connecting the spine to the arms and hands. This would normally only happen through fairly dramatic trauma to the shoulder so why Liz has it is a bit of a mystery - although I am thinking of changing her name to Job. (I know - a biblical reference from me – it's a bit like hearing Richard Dawkins quote the Bible, but it does happen occasionally).
We think the most likely cause was Tim the decorator. Our whole house is in turmoil at the moment as Tim is decorating the entire house and every room is full of the furniture from the room next door. This involved us moving a lot of stuff about, and this seems the most likely cause, although it hardly qualifies as "fairly dramatic trauma".
She has to go back to the consultant's out-patients clinic next Thursday where I hope I will be able to sort out a little more detail. She should be referred on to both a pain management specialist (which doesn't sound good) and whatever specialist it is that deals with damage to the brachial plexus.
There is no sudden cure for such injuries, but it should be curable in (I hope) the medium term. Meanwhile, we are both only too happy to have her home, and we are looking forward to a few days peace, quiet and rest. (Ah - just thought – that's not going to happen – the granddaughters are coming tomorrow……..)
The weekend went well, Liz thoroughly enjoyed her time with the four year olds, but she cannot get comfortable anywhere as she is in some considerable pain – enough that she still needs regular morphine.
The shoulder is a bit of a puzzle, as a couple of friends in a position to know about these things say that the damage to the brachial plexus would be unusual in Liz's case. It would normally require a quite traumatic shock – one asked whether Liz had come off her motorbike recently. So what it is is not entirely clear yet.
We will go the orthopaedic consultant on Thursday, but we only expect a referral to some other specialist, but which speciality remains a bit of a mystery. In the meanwhile, we make plans without any certainly of them coming to fruition. Frustrating.
More after Thursday.
Liz attended her regular myeloma clinic yesterday where they just keep tabs on her blood figures and so on, and she was declared to be in full remission. Great news.
Her myeloma consultant, Dr Allotey (a lovely man) was very concerned about her shoulder even though it's not, technically, his area. Anyway, to cut a long story short, he has referred Liz to a neurologist, (one who has already been recommended to us) which is also good news.
The bad news is that, when I spoke to his secretary last night, his first available slot is Wednesday 24th – 2 weeks time. I begged and pleaded for something earlier, and we are the first for a cancellation, but I fear Liz may have a two week wait. Not so good, and in the meantime, she is taking her morphine three times a day which helps contain the pain, but it is a struggle.
I will write again when something happens, but that my be a fortnight…….
We went to see the orthopaedic surgeon yesterday, and we didn't really get anywhere. To be honest, it was about what we were expecting but Liz will at least get a referral to a pain specialist, but who knows when? The surgeon suggested that it is probably brachial plexus neuritis, but internet searches all suggest that with that condition, the pain comes on some time before the loss of motion, which wasn't what happened with Liz, so I'm not sure if we are any further forward.
The contrast with Liz's myeloma consultant is marked. We just happened to bump into him in the hospital corridor, and he wanted to know how Liz was doing. He wasn't happy when we said that we couldn't get to see the neurologist any sooner than two weeks (even going privately) and said he would phone the man and see if you could exert any influence. Whether he will be able to or not, he always seems to go that extra mile which is very impressive and makes you feel cared for.
A friend recently suggested that Liz might have polymyalgia rheumatica, a painful condition similar to Liz's, but one that can be treated quite quickly. However, both doctors ruled that out very quickly, mainly because it comes on symmetrically (i.e. both sides) and Liz only has it on one side.
So, this morning we are waiting for a phone call from our GP to see what can be done about upping Liz's pain killers. She is already taking a low dose of a drug that is good for nerve pain, so increasing that might help, and various sources have suggested that she could easily double her morphine dose with no ill effects. We bought a TENS machine yesterday which Liz has started using, but it's too early to give a definitive verdict. Let's hope something does some good, because waiting until Wednesday week will be difficult.
Some good news at last yesterday.
First, I decided overnight that I would phone the Nuffield, ask if any pain specialists consulted there, and get an appointment with whoever was available. I did, they did, and I did. As it turned out, the person to whom we had been referred was available, so we are going to see him on Friday. (His name caused a little confusion when Liz spoke to BUPA as it sounds like Butch-kovsky, and that was what they looked up in their records. Unfortunately, he wasn't there, which would mean if we see him, we have to cough up ourselves. However, after some detective work, they eventually did find him, and he is, of course, Polish. It was actually spelled Buczkowski.) First bit of good news then – Liz sees a pain specialist next Friday.
Then, later on, our GP phoned (another wonderful man). He has swapped Liz's liquid morphine (which she was taking every 6 hours) for a slow release tablet which will even out the effect of the drug over a longer period. He also doubled the dose of the drug dealing with nerve pain but Liz is having to do that slowly, over a three day period so the effect of that won't be apparent for a day or two. And if that still isn't enough, she can also continue with the liquid morphine if needed. So we are hoping that will help – and the TENS machine seems to be doing some good as well.
Finally, at about midday I got a call from the neurologist's secretary saying that there was a cancellation and we have an appointment for 5 o'clock on Monday. So no wait until Wednesday week - a real piece of good luck (although Liz insists it's the result of prayer).
So, although Liz isn't feeling any better immediately, something is happening and we should start to get somewhere early next week. Fingers crossed – we have to get down for the twins 4th birthday party next Sunday.
We went to see the neurologist last night, and immediately afterwards, the pain management specialist had managed to squeeze us in. It was a long evening – we left here about 4:00 and got back about 8:00 – and Liz was exhausted.
The neurologist, Dr Bajaj, was very thorough but at the end of his examination, as we expected, he said he did not have enough information to make a diagnosis and he has therefore organised three more tests.
The first, a more detailed MRI scan, will be done on Wednesday. Unfortunately, this involves being inside the MRI machine for about an hour and Liz really isn't looking forward to it - it is extremely claustrophobic and very noisy. Since the scan is of three different aspects, though, she is hoping that she will be allowed out between them.
The second is a nerve conduction study of Liz's shoulder which will tell him which nerves are working correctly, which are not, and where they are not. For this, we have to go to Sheffield and we should get an appointment within the next 14 days.
The final test is a lumbar puncture which will tell him if there is anything present in the spinal fluid which shouldn't be there, but this can take up to three weeks to organise.
We were in with him for about 40 minutes, so it was a very thorough examination, and Dr Bajaj is very highly recommended, so Liz will now go through all that, and we will wait for the results.
We then went in to see Dr Buczkowski (Butch-kovsky) who did another very thorough exam lasting over an hour! He was looking for mechanical (i.e. muscle/tendon) type answers but couldn't identify anything specific either. However, he added a couple of x-rays to the list, which we hope will be done at the same time as the MRI scan on Wednesday.
He also reviewed Liz's drug regime and suggested a couple of tweaks, but nothing major and since upping the pain killers at the weekend, Liz declares herself much more comfortable. Mornings and evenings are still the worst time, though.
So, we don't really know any more than we did, but Liz is a great deal more comfortable than she was this time last week and we will have to see what the next three weeks brings.
Not a good couple of days.
Just after I wrote on Tuesday, Liz woke up, still in a lot of pain, and with a bit of a temperature. As she is still vulnerable to infection, she is under strict instructions to call her emergency number should her temperature rise above 38. When this happens, past experience tells us she will be called in to the ward, where she will be given a 4/5 day treatment with intravenous antibiotics. We didn't need this at the moment, so we ignored her possible temperature in the hope that it would go away.
She took her temperature again a bit later, and it was 38.5. We checked the thermometer by taking my temperature – 37.3, dead normal, but we still ignored it. Eventually, around mid-day, it was still stubbornly high so we had to call in, and, as expected Liz was told to report to the day unit for examination.
Packing Liz's bag is, unfortunately, now second nature so off we went. When we got there, there were the usual checks, blood samples etc, and her temperature was – 37.3. How did that happen? No idea but we were both very grateful. However, by this time she was in the system so we had to wait for a doctor who prescribed a course of oral antibiotics and sent her home. Relief.
Then yesterday we got Liz to the hospital for her un-looked-forward-to MRI scan. We had dosed her up to the limit with painkillers, and she was very woozy which we hoped would get her through. It was going to take up to 90 minutes so I left her and went off. In about 20 minutes I had a tearful call from Liz saying that she was in so much pain that she couldn't lie flat on the machine's table and after a couple of tries they had had to abandon the whole idea. She said on a scale of 1-10 the pain got as high as 9, and Liz always seems to me to be fairly stoical about pain, so it was obviously bad.
So – no MRI scans, a big disappointment. I have phoned the secretaries of the two consultants involved but, as yet, not heard back so I am not sure of the implications.
The pain seems to get worse daily, and she is now clearly struggling with it but I don't know what else I can do. I shall phone the GP this morning to see if he can change the drug regime, and I am waiting a call from the pain management man's secretary but that is about it. She is in dreadful pain, and I feel so helpless. It is tearing us both up.
Anyway – back to the hospital this morning for an ultrasound of the shoulder which shouldn't require lying flat, but, just what we needed, my car broke a main suspension spring on the way home yesterday and is now in the garage. The new car isn't here yet so we will be using Liz's Smart – not the most comfortable method of transport for someone who winces with every bump. (On the plus side – the Mercedes garage have organised a loan car for me until the new one does arrive, but there isn't time to pick it up before we leave this morning, although we should have rather more comfortable transport from this afternoon.)
So please pray, send your good wishes, whatever you can, and hope we can at least get some of the pain relieved soon.
Just a short update – Liz was reasonably good on Thursday morning and the ultrasound scan went well. The pain was sufficiently low that Liz was able to enjoy a cup of coffee and a bacon butty afterwards, and later that day we had a call from the pain specialist (well, his secretary) to say he had seen the images and it all appeared normal. I'm not sure whether this is good or bad.
The pain got a lot worse in the afternoon, though, and had reached 7 or 8 by the evening.
We go back to see the pain doctor on Monday, and we have an appointment at the Royal Hallamshire in Sheffield on Thursday for a nerve conduction study, so more as all that happens.
The weekend went better than we might have hoped. The big thing was to get Liz down to Chesham for the granddaughter's 4th birthday party. She missed last year because she was in hospital and was determined not to miss this one.
The big problem was the 2:30 car journey down the M1 and back, so we decided to go down a day early and stay overnight, and because my BMW is being mended (see Thursday 18th) the local Mercedes dealer had lent me a car – a rather splendid CLS Shooting Brake. However, getting a wheelchair (somewhere comfortable for Liz to sit at the party) and the bike we had bought for a birthday present (mum and dad bought the other one) into a boot smaller than I am used to proved a bit of a jigsaw.
However, we got everything in and set off with Liz dosed up with morphine. We went for about 40 minutes before Liz had to stop and walk about, but after that we went for another hour plus and got to the hotel in plenty of time. Liz had a rest, a dose of morphine, and we went over to see everyone for an hour, and gave the girls their bikes which went down very well, as you can imagine.
Then back to the hotel for a rest, dinner and, for me at least, a couple of beers. By the time we went to bed, Liz had managed really well and had been in less pain for most of the day than we were used to. A relief.
Sunday morning was as difficult as usual, stuffing down pain killers and then waiting for them to work, but we managed to get down for a late breakfast, then a rest, another dose of morphine, and over to the church hall for the big party. We got there a bit early, which gave Liz a chance to catch up with some of Naresh's family, (including the new baby), and some of Vicki's friends.
She managed just over an hour of the party, with large numbers of four year old running round and shouting, but we had to leave early – right in the middle of Naresh telling a wonderful story dressed as the Wizard of Rainbow Land, complete with hat, gown and flowing beard.
A half hour rest in the hotel, another dose of morphine, then back on the M1 at about 4:00 hoping to miss the worst of the traffic. We had to stop again after about 40 minutes, but then managed to get all the way home in one go with the pain coming and going.
Liz managed really well, with no moaning at all despite being in a lot of pain at some points over the weekend. It seems though that moving about helps things. She wakes up in a lot of pain, having been in bed all night, but over the weekend the daytime lying down was limited to breaks of between half an hour and an hour now and then, and she did seem to be a lot better, so we will be trying a slightly more active regime to see how that works.
We had hoped to see the pain doctor again today at 12:00, but I have just had a phone call saying he has had to cancel all his appointments this morning, so we must now wait for a new date......
It's been a busy week. Monday was quiet enough after the pain doctor cancelled all his appointments, and that gave us a chance to catch our breath after the weekend - but we did learn one lesson. Liz had been taking an antibiotic at 3 o'clock every afternoon but the course was completed on Sunday. Unfortunately, when 3 o'clock came round on Monday she knew she had to take something, so took her slow release morphine pill. She normally takes these at 8 in the morning and 8 in the evening and they last for 12 hours, but now we had a problem – when should she take the next one? She decided to leave it until 8 the next morning, but when she woke up on Tuesday the morphine had all worn off, and she was in terrible pain. She couldn't do anything, couldn't find a position to alleviate it and she was suffering badly. On top of that, I had to get her up and to the hospital in Belper for a blood test by 11 o'clock, and trying to draw the line between leaving her long enough for the pain killers to work and getting her to the hospital in time was stressful for both of us. It did show us just exactly how much pain the morphine is dealing with though.
Having got her through the blood test, we stopped off in Belper for a coffee and a bacon butty, which helped things. Morphine and caffeine seem to work well together.
Then there was just time for a rest and we had to get into Derby to pick up the new car. It should have been an exciting occasion, but there was a lot to go through, and Liz was still in pain so, lovely though the new car is, I couldn't get as excited about it as either Liz or the salesman would have liked. Then home, exhausted.
Yesterday (Wednesday) was always going to be bad. Liz had to get to the hospital in Derby at 1:30 for her monthly calcium infusion, which can take anything up to an hour, then we had to get her to Sheffield for the nerve conduction study for 4:30. That may not sound like too demanding a timetable, but Sheffield is over an hour away at the best of times, both the A38 and the M1 can produce very slow traffic at that time of day, satnavs can't always be relied on to get across large towns by the best route, and finally, we don't know the parking or the hospital when we get there. Liz was in a lot of pain, and every time the car hit a bump she sometimes winced, and sometimes yelped with the pain. I was always going to be stressed out, and indeed I was. It was a terrible journey, but despite all that, we arrived for the appointment 10 minutes early. (Which does show I was right though – it was a tight timetable).
The doctor attached electrodes all up and down Liz's arms and for over an hour, gave her small (and some large) electric shocks which he measured on a screen. To say Liz was exhausted doesn't really cover it, and when he had finished, she lay back on the couch and just went to sleep while the nurse brought us a cup of tea and some biscuits. He wouldn't be drawn on the results, but said he had to study the various graphs in some detail and would get his report off to Liz's neurologist today. So we must wait.
We eventually left there around 6:30, and on the way back, Liz was very comfortable with quite low pain levels. She was chatting about the areas of Sheffield she had known as a student (expressing surprise that it had changed – from 40 years ago!), declaring how comfortable the seats in the new car were, admiring the Derbyshire countryside. Completely different from the way up there. As our American cousins would say – go figure!.
We got back here just after 7:30, at which point there was no way I was going to start cooking so we came via the chippy, ate our dinner and had an early night.
I am now waiting to see how Liz is this morning, and, because yesterday was so fraught, I am expecting her to be bad. We have another appointment at the Royal Derby this afternoon (1:30) and the pain doctor had given us a replacement appointment tomorrow evening at 6:00. A busy, busy week, (made worse by the fact that I am also trying to get our caravan site open for the Bank Holiday weekend).
I don't think this afternoon is going to produce anything useful at all as it is a follow up visit to the orthopaedic department, so I will probably report back on Saturday after we have seen the pain doctor.
As predicted, the appointment at the orthopaedic clinic came up with nothing new. The doctor agreed that, as the matter was now in the hands of the neurologist and the pain consultant, there was little they could usefully do unless Liz was referred back to them for something specific.
Last night's visit to the pain consultant was more constructive. He gave Liz another thorough going over, spent a long time looking at the x-rays and MRI scans that have been done over the last few weeks, and has come to the provisional conclusion that the problem may be a narrowing of the spinal canal around Liz's neck (C5, C6 for the medically trained). Unfortunately, the MRI scans are not too detailed and he, too, needs another, more detailed scan, which will be difficult if not impossible to obtain. To do an MRI of the neck region, it appears that Liz must lie flat on the table with a special collar on, and as this forces her neck into an extremely painful position, she is no more able to do that now than she was two weeks ago.
He is going to talk to an imaging consultant about what options there may be for a scan, and also to the neurologist as their paths are beginning to converge. In the meantime he has made some changes to Liz's morphine regime which we should be able to start on Monday when I can organise the necessary prescriptions with the G.P.
Meanwhile we can only sit and await further developments
Liz got worse over the weekend, and last night (Sunday) she lost most of the ability to grip with her left hand. This was very worrying but I knew if I rang the hospital or 111 and they wanted her in A&E they would probably send an ambulance. The paramedics would need to "board" her in the ambulance, which Liz would not be able to do, so I foresaw an unpleasant stalemate – Liz would be screaming with pain on the board, but they wouldn't move her without. Should I risk taking her in in the car?
I was at my wit's end with worry, and in the end I had to do something I try very hard to avoid, and I phoned a retired G.P. friend who, on balance, agreed with me – take the car. A nightmare decision.
A&E was not too busy when we got there just before 6:00, and Liz was quickly run through the usual triage procedure, but it got busier and it wasn't until about 9:00 that a junior doctor examined her. He then went off to report and came back about 45 minutes later to say that he had discussed Liz's symptoms with the A&E consultant and the on-call orthopaedic consultant and they were convinced that this was not a spinal compression. This was good news, but at that point they would go no further - they said Liz could go home.
This was not a terribly confidence inspiring result, but there really isn't anywhere else to go. We already have a neurologist working on it, orthopaedics say there is nothing for them to do, and it would pretty much have to be either orthopaedic or neurological.
We have written to the neurologist with a list of Liz's worsening symptoms but I suspect he will want to wait for the results of a lumbar puncture for which we haven't yet had an appointment. The pain specialist appears to be moving things forward but so much depends on an MRI, and if the only way to do that is for Liz to lie flat what happens? It's all very worrying.
We had a bit of a bad day yesterday. Because Liz's symptoms got worse over the weekend, and when we went to A&E, the orthopaedic department just seemed to say "it's not orthopaedic, go home" we felt we had been short changed.
When I spoke to him on the phone yesterday morning, our GP agreed with us and arranged an emergency appointment for one of his partners to see Liz immediately. When we got there around lunch time he examined Liz, but thought there wasn't much point in letting her fester in the assessment unit at the Royal Derby for two days only for orthopaedic to do the same thing.
He thought an emergency appointment with the neurologist was the best route, but the neurologist's secretary doesn't work in the day on Monday to Wednesday so despite both our GP and I leaving messages, we heard nothing until about 8:00 last night.
Then all we got was "the neurologist doesn't think it's worth seeing Liz until all the test results are in". One of the tests is the MRI that Liz can't manage and the other is a lumbar puncture that apparently needs to be done at the Royal, and we don't even have an appointment yet. Arrgghh!!
In the meantime, on both Sunday and Monday mornings Liz took her pain killers at 9:00 with her morning cup of tea and within two minutes had thrown up and brought everything back. This presents a bit of a problem because it is almost impossible to know how much of her medication she actually got. It is not safe to assume she got none and just take it all again as some of these are quite powerful, so she may not have been getting all her pain relief for the last two days – we have no way of knowing.
Anyway, a friend, Julia, has been chasing round and has located a vertical MRI machine in Leeds where Liz could sit rather than lie flat, and it is open rather than enclosed as it's main use is for claustrophobia. I shall follow this one up today. I suspect we will have to pay for it but at this stage I don't care very much.
I am also going to investigate the possibility of a general anaesthetic, as I know that it can be done but how, whether it is a suitable answer to Liz's problem, when, and the cost I need to find out. When asked which was the less unpleasant, a three hour round trip to Leeds, or a general anaesthetic, Liz plumped for the general – I hope she gets the chance to make the choice.
We shall try giving Liz her morning pills one at a time over a longer period to see what happens, but if it continues Vicki suggested that we can look at morphine patches or even a syringe driver – a device that pumps morphine intravenously very slowly throughout the day.
I shall also check with BUPA to see if they have any other suggestions.
We were close to despair last night after the neurologist didn't want to see Liz, so she phoned the leader of her church who came round and prayed with her, and I had a long conversation with Vicki. Decisions were made. We both felt better in our own ways.
Liz is still in an awful lot of pain, her symptoms are getting worse, and beyond the GP we can't get anyone to take much notice, but, we do have a plan, and with the GP on my side I now have the bit between my teeth.
A busy day yesterday, and the plan is showing results.
First off, I contacted the local Nuffield hospital to find out whether they could do an MRI under any form of anaesthetic, and the answer is they can't. The MRI machines don't allow for the monitoring that would be required, but they could do it at a big NHS hospital. However, the scanner technician did know of the vertical MRI machine in Leeds, and that gave me confidence that it wasn't some sort of rip-off.
Then I got on to the Royal Derby to ask the same anaesthetic questions. They can do it, but only when requested internally by a doctor – there is, unsurprisingly, no time in the MRI schedule for private patients. And she had no suggestions where I might get squeezed in.
Next I got on to Leeds but got some bad news – they can do all the scans, but for the scans that we want – upper spine - the patient does have to be on a flat bed. It doesn't have to be horizontal, but the bed is flat. No good. The man I spoke to reckoned that their centre in London might be able to do what we needed though – the machine is different.
Next port of call – the machine in London. It appears that they can do everything we want – the upper spine with Liz in a sitting position – some good news at last. The bad news – it will take between 3 and 4 hours depending on how long Liz can sit and it will cost a rather hefty £1,700!
The final port of call that morning was BUPA to see if they could give me any pointers that I hadn't thought of. It started with some very good news – they can cover the bill for the scan. I will perhaps believe that when I see it, but it is certainly promising. Beyond that, they said that there is no reason why the other test – the lumbar puncture – can't be done immediately at the Nuffield, and they will cover it. So – more good news from BUPA.
Then, unexpectedly, we had a call from the GP. He wanted to know if Liz had deteriorated any further, and he has arranged an emergency appointment for us to go back on Friday when he will decide what to do. It seems quite likely that he will get Liz admitted again (although this means the madhouse that is the MAU) and we will have to plot a means for keeping her out of the clutches of the orthopaedic department.
So it looks good – we can get the required scans but we have to go to London which will be an ordeal for Liz. There is no way Liz is going to manage there and back in a day. We could go on the train, but that is nearly 2 hours each way, plus the journey between here and Derby station. And we still have to get from St Pancras to Oxford street - if she is in pain in my car, I can't imagine how she would be in a regular taxi. Worse, to get there at a sensible time she would have to get up around 06:00.
So – we will have to stay overnight, at least one night and probably two. Do we drive down, stay with Vicki and get a limo to run us into central London for 10:00 or whenever – that's another early-ish start. Do we stay in a hotel near the clinic – that's expensive and we still have the travel problem. I could drive all the way to the hotel but it seems unlikely that they will have any kind of car parking facilities - some stuff be investigated. But whatever we do, getting Liz to and from the machine in London is very clearly not a minor undertaking.
The final call, then, was to the neurologist's secretary to sort out exactly what is needed, whether it is worth subjecting Liz to the ordeal of the trip to London (although I suspect that the answer to that is yes), and why we have to wait for the NHS for an urgent lumbar puncture when we can get it done privately.
She was some time getting back to me and I did wonder whether my highly emotional call last night had upset her, but she did get back to me and she said that the neurologist said he could call tonight (Wednesday) at 19:00 to discuss the various issues. Thinking about it, he is right – there is little point in taking Liz to see him. He could observe the deterioration, but without the diagnostic information he needs he still can't do anything. However, I now have some specific questions for him and we await his call.
So today – first, double check that the Leeds scanner can't, and the London scanner can, do what we need. Second, check the options and hotels in and around the area of the clinic. Lastly, it appears that the delay in the lumbar puncture might be a protocol issue. The neurologist wants his team at the Royal to do the it (which means waiting) and it appears that it may be unethical to get someone else to do it. I hope to explore this with a couple of medical friends today before he calls. I may be less concerned about ethics than he is.
The neurologist phoned, as promised, last night and the conversation lasted just over half an hour. In summary he said that the nerve conduction study we had done in Sheffield suggested that the brachial plexus (the nerves spreading out from the spine to the arm and hand) was fine, the problem appeared to be in the spine.
Having looked at the existing MRI scans (March and April) he says that Liz's upper neck has quite a bit of arthritis and he thinks this is the problem. Liz has had problems with this part of her neck for 20 odd years now, which would tend to confirm that. Surgeons don't like to operate in this area as there are so many nerves and blood vessels, so he suggests that physio will let Liz's nerves learn new pathways to control her arm in the same way that she learned to use her legs again after the surgery last year.
He went on to say that the lumbar puncture is less critical now as he will only be using the results to eliminate some fairly unlikely possibilities. However, he definitely wants the MRI scans as a soon as possible, and he emailed the referral letter this morning, so a trip to London will go ahead. I shall contact the pain specialist to find out if there is any way we can help Liz make the journey and sit for 40 minutes in the MRI machine. I am not sure how it will all work, but I shall get on to that today.
Liz's pain was slightly better yesterday, but whether that was due to the slightly changed drug regime or coincidence we won't know for a day or two. Her right pupil remains dilated, which can be uncomfortable in bright light, so she is currently walking round, looking a bit like a pirate in an eye patch.
Things seem to be moving but prayers, crossed fingers, pancakes honey and sunshine are all still required please.
Liz's pain levels were about the same yesterday as on Wednesday so perhaps the new drug regime is paying off. It is still bad, but at least she doesn't screw her face up with pain every time she moves.
We got out and walked round the house two or three times yesterday in the sunshine (thank you all for that – and the pancakes, prayers etc.), and there is no doubt that not laying immobile for long periods on the sofa helps. Plus Liz now has stuff in her greenhouse so she can have a bit of a potter in there, and there are baby lambs in the fields.
Some good news yesterday, possibly. The neurologist said that one of his other patients had suggested that there was another of the vertical / sitting (non-lying flat anyway) MRI machines in Solihull. I checked it out and indeed there was. I spoke to the people there, explained exactly what Liz's problem is, and, while it is still a flat bed, they reckoned that they could do it because they deal with a lot of patients with osteoporosis and bent spines. So, I have booked an appointment for Monday week (13th –there wasn't anything sooner) and if it comes off it will save Liz a lot of difficulty – Solihull is only an hour away.
Today we have a visit to the GP to evaluate Liz's deteriorating symptoms and I am not sure what he will do. Admission to the Royal seems a real possibility and we both regard that with mixed emotions as you can imagine. I will add a footnote here later today when we get back…..
13:00. As I had secretly hoped, Liz is being admitted. Her symptoms were worrying me greatly, and had she not been admitted I am not at all sure what I would have done. The GP was also concerned and couldn't make much sense of all the symptoms, so spoke to the neurology department, and they said to admit her. She will be going to Queen's Medical Centre (QMC) in Nottingham, which is the local neurology centre. They will have the facilities to do the required MRI scans, under anaesthetic if necessary, and a lumbar puncture. More than this I don't know at the moment, but I will update here as and when…..
We got Liz to the QMC in Nottingham about 4 o'clock yesterday afternoon, and it became clear throughout the afternoon that she was being treated as an urgent case – pretty much vindicating all the jumping up and down I was doing during the week to get someone to take her symptoms seriously.
During the admission process it transpired that the neurologist she has been seeing went on holiday yesterday, as did his secretary, and no one can get to Liz's notes. This means that Nottingham will have to start from scratch plus what we can tell them plus what our GP can tell them. In some ways this might be a good thing as they will start with a blank slate rather than someone's preconceived ideas. Not that I am suggesting that the neurologist is wrong in his diagnosis – he is far too well respected for that to seem likely – but her symptoms have changed drastically in the last week and a fresh pair of eyes will be useful.
A young junior doctor gave her an initial exam early in the evening, then spoke to a consultant, and around 10 last night came back to say that the consultant had arranged two tests to be done ASAP (which means that they will probably have been done some time last night). She (the consultant) wanted another CT scan of the head, and an angiogram which I understand is the same as a CT scan but with something injected to enhance the image so that the blood vessels can be seen clearly. They are looking for any enlarged blood vessels in the brain, which, with my vast layman's knowledge, would seem the sort of thing that might produce Liz's symptoms.
Not knowing when this would take place – there was, as always, a queue – I came home, had a bite to eat and, after a quick text to Liz, got to bed around midnight.
As you will gather from the timing of this I didn't sleep much as I hope to get back over there early this morning to be there when the consultant makes her first round. Liz's brain is a little woolly round the edges at the moment and she can forget stuff, so I want to make sure nothing gets missed.
I'm not sure what we are expecting now, but at least she is in the best possible place and I am reassured by the fact that, while she is obviously urgent, the flashing blue lights, sirens, and other signs of a genuine emergency are not present. The neurology department is on the case.
More as and when I can.
I got to the hospital around 10:00 yesterday just in time to catch the neurologist's first visit to Liz. She was unaware of Liz's difficulty with an MRI and was quite annoyed when she found out as she had cancelled the two overnight CT scans in the expectation of an MRI. It appears that there is only one anaesthetist available over the Bank Holiday weekend, and he/she was going to have no time to help Liz through such a scan.
Reading through the last week, I realise that while going through all the troubles we have been having with the medical profession, I haven't actually said that over the week, Liz's symptoms have become more and more stroke-like involving her face and nerves that don't go down the spine. This was what worried the GP so, and what the neurologist was concerned about, so an MRI was definitely needed.
In the end Liz agreed to try with the help of morphine and valium. They got one, but it involved a lot of encouragement from the man doing the scan, quite a lot of shouting and screaming from Liz, and she described the pain levels as about 11/10 – amazing woman.
The good news is that the scan showed no aneurysms (so no stroke) and no large lumps - the two major worries.
So we still don't know what it is, but Liz and I felt immediately better and it was obvious that the neurologist lady felt better too. There is no more to be done now until Tuesday when, having seen what Liz had to go through to get that scan, they hope to get an anaesthetist on the job. I hope so.
So unless anything unexpected happens before then, I will report back on Wednesday morning on Tuesday's events.
On Sunday they did a lumbar puncture to take a look at Liz's spinal fluid and they found some proteins in there that shouldn't be there, but the neurologist was a bit puzzled about exactly what it meant. However, an infection looked possible so, over Sunday night and Monday they had Liz on massive doses of broad spectrum antibiotics, but I'm not sure what results we might expect to see – if any.
Yesterday a consultant neurologist lady came round (not sure what the previous lady was as I could never see her badge) and she gave Liz a very thorough going over. She, too, pronounced herself slightly puzzled but said that the bits of Liz that are affected are not all related or controlled by the same nerves or brain paths, so where a mechanical cause might be would be difficult to imagine. This lead her to conclude that we are looking at something more like an infection. They are now waiting for something called the cytology results. (I have no idea what those might be, but I gave up looking up medical stuff on the internet a year or so ago when I gave myself a thorough scare quite unnecessarily.)
If it isn't a mechanical type problem (bones, tumour) then an MRI isn't going to show anything, so that idea is temporarily shelved much to Liz's relief. They want a CT scan (not sure of the difference) but that doesn't involve the large collar that the MRI requires and Liz should be able to manage it.
The consultant we were seeing privately returns from holiday today so she may see him, and it will interesting to see what he says.
More tomorrow if anything happens.
Over the last two days a lot has happened, but not much has changed.
The consultant we were seeing privately (who I think is very senior on the neuro team) examined Liz on Tuesday, and that was useful as he is the only person to be able to assess the progress of Liz's symptoms. However, they remain puzzled.
I saw Liz's haematology consultant in Derby on Tuesday and he has got his colleagues in Nottingham on the case as well. Unfortunately, haematology in Nottingham is in a separate building from the QMC, about 2 miles down the road but I assume they are used to this situation. (However, inter-departmental communication does appear to be better in Derby than Nottingham although that is based on not a lot of information.)
The main thinking now is indeed that this is not a mechanical problem, i.e. no bones pressing on nerves, but is organic, i.e. it is being caused by some organism that is excreting stuff into the spinal fluid. The lumbar puncture Liz had showed two sorts of cells in the spinal fluid, one sort suggesting malignancy and the other suggesting infection, either viral or bacterial, and this still hasn't been resolved.
They still want the CT and MRI scans but because no one will believe the pain it causes Liz when we tell them, they resolved to try again yesterday. They upped the dose of sedative enormously and put her on as much morphine as they felt was safe and Liz still only lasted about 4 minutes. The two MRIs they need take half an hour each!
(This did provide three examples of the quality of the care Liz is receiving. Firstly, Liz had specifically requested, and got, the radiographer who was so good with her on Saturday. He, too, protested when he saw it was Liz, saying he could see little point in subjecting her to the pain of even trying. He also pointed out that a general was probably the only answer.
The second was when the doctor (known as the Nice American Doctor, or NAD for short) who had been seeing Liz all day and preparing her, and who could see that Liz was terrified of the scan, volunteered to walk down with her when the time came.
Then the third example. When the time did come the NAD was tied up with another patient and had to cry off, but the ward nurse phoned her and said, quite forcefully I gather, "you can't promise a patient something and then not do it!". The NAD came, and Liz was very grateful.)
Anyway, the next plan, hastily cobbled together when that attempt failed, was to go ahead with the CT scan (which was done with no problems at all yesterday evening), and there was a slot last night when the MRIs could have been done under a general anaesthetic, which they booked. I girded my loins for a long evening as I had no intention of coming home until Liz was awake again. But then the NAD came in and said that after a little consideration, the medical team were not entirely happy with the idea of Liz going down for a general at a time when all the people who were familiar with her case had finished for the day, with her being cared for by a team she didn't know and who didn't know her.
The NAD had been particularly caring of Liz all day, and we thought it was rather sweet, but the cynic in me wonders if there was some other, medical, reason why they didn't take the chance to get the scans they wanted when they will now have to wait until Friday when a day-time slot is available.
So, today the current plan (and I use the word "current" advisedly) is another lumbar puncture, presumably to get something to compare with the previous results. (Someone pointed out last night that, in normal circumstances, going in for a lumbar puncture would provoke much sympathy. But because of what Liz has gone through, we dismiss it as a relatively pain-free exercise that will just get done. Poor Liz.)
Then, hopefully, on Friday they will get the MRIs done with Liz under a general anaesthetic.
Lots more prayers and fingers crossed please.
Well, we finally have a diagnosis for all Liz's problems and it's the myeloma. It's back, and it's back in an incredibly rare form for which, unhappily, the prognosis is utterly terrible. Liz and I have only "months not years" left together. Because it is so rare, I don't think that anyone in the haematology departments of either Derby or Nottingham has ever seen a case. Which means that they have had to go back to text books to find out about it, so information is very thin and such treatment as there is is as much research as recommended procedure.
They have moved Liz from the neurology department (at the QMC) to the haematology department (at Nottingham City) where she will immediately start a course of radiotherapy. At the time of writing we haven't seen the radiographer so I don't know any more than that. How long it will last? How long will she have to stay in Nottingham? No idea, but once the radiotherapy is over she can be transferred back to the care of the Royal Derby where she feels that, after the last 18 months, the haematology team are trusted old friends.
Derby may then give her some spinal chemo but whether that will happen, whether she will be an in patient, day patient or out patient we don't know. It would nice to get her home as soon as we can.
Liz and I are, obviously, still in a state of shock and I am sorry to break it to you in this impersonal way, but Liz has so many friends and acquaintances that it just isn't possible to contact everyone personally.
Finally, for the moment anyway, I know that you will want to see Liz, phone her, text her, speak to her, wish her well, offer to help, but please could you not do so. We would like some privacy at this time, and with so little time left to share it's worth remembering that any five minutes that either of us spends talking on the phone to someone else (or texting or emailing) is five minutes removed for ever from the short time we have left together.
Although Liz finds texting and emailing quite difficult at the moment as her hands and fingers aren't working too well, and phoning is simply too demanding, she would love to hear your news. The best way is probably a card or better still a letter. Old fashioned I know, but easily digested at her own speed. Email is OK too, but a bit harder to avoid replying to. However you do it though, it would help if you can restrict it to your news and not ask questions as this will put pressure on Liz to reply. Please don't phone or text.
I am sure she will get round to speaking to many of you. However - could you let her do this in her own time, and at her own pace, and if you do write or email, please don't necessarily expect a reply.
Thank you.
Sorry there has been no news for the last few days, but a sudden change of plans by the hospital necessitated me spending the last two nights in a hotel in Nottingham, and I had no time to do anything before leaving on Tuesday.
Liz is currently still in Nottingham and her various treatments have been started.
The spinal chemo has proved problematic. They tried to get the needle in on Wednesday afternoon and failed. It actually frightened me nearly to death. It should be a reasonably straightforward, if delicate, process but after some time a very worried looking nurse came to the door of the treatment room and called across to a colleague "Dr. so-and-so we need you in here". Not good. Needles, spine – has something gone wrong? A terrible 15 minutes ensued during which I was beside myself with worry and when, finally, the door opened I rushed in to find that there wasn't really a problem and the worried look on the nurse's face was her normal look. The first doctor had tried to get the needle in twice and twice is all he is allowed to try. I think that's the law – two goes at a procedure and you hand over to a colleague. The second doctor had been called in to try as well, but he also failed. It took me most of the evening to get rid of the adrenaline that 15 minutes had generated.
We were told that they would try again using an x-ray image to guide the needle but it turns out that they can't. It is the law of the land that chemo can only be given in certain designated rooms and the x-ray department is not one of those rooms so it can't be done there. They can't put the needle in in the x-ray department and then wheel Liz round the hospital with a great needle sticking out of her back either so they will try again today, but if they fail again, that treatment is going to be impossible.
The Prof (head of haematology) is thinking hard about what alternatives there may be, but the problem is that the number of documented cases of this type of myeloma appears to be in single digits and the spinal chemo is the treatment. So Liz is going to be, of necessity, a guinea pig for any untried treatment the Prof comes up with.
On the other side she has been prepared for the radiotherapy treatment. This involves having a head mask made that will hold the head absolutely rigid in a fixed position over the course of the ten or twelve radiology sessions. It is a less-than-pleasant, slightly claustrophobic process that Liz wasn't happy about – and having watched I can understand. But, having had one panic attack, between the little blue pill (sedative) and me holding her hand she got through it and they are now ready to start.
We are, however, getting conflicting stories about when it will start. In our original meeting with the chief radiologist on Monday she seemed to be suggesting that treatment would start fairly quickly, but the appointment we got yesterday for the first session was June 3rd. I realise that this probably is quickly for the NHS but both we, and Liz's haematology doctor, are a little concerned about this and I hope to get it resolved today.
Liz herself remains Liz, although she is much weaker than she has been. I watched her walk down the corridor with her physio yesterday and as I watched I thought that only two months ago this wonderful woman had just got back to walking pretty much normally, and here she was struggling to stay upright even with assistance. I wanted to weep.
The week ended with some good news - yesterday afternoon, they finally got the spinal chemo in. Such treatment as there is has finally got under way.
Liz's haematology consultant was in Nottingham yesterday for a conference, and, following a call I made yesterday morning to the myeloma nurse in Derby, he popped in to see her. As usual he was honest, caring and kind – what more can you ask? What he said is that the spinal chemo is an important part of the treatment and it has to be repeated every two weeks. We knew this, but what we hadn't been told is that once this first one is in, they will admit Liz to the QMC neurology unit again to have a small reservoir fitted under her scalp, connected directly into the fluid round the brain (it's the same stuff as in the spine – it circulates).
Once the reservoir is fitted, she can go into Derby every fortnight as an outpatient as it's a 20 minute job to get the chemo in – they often use this technique for children where they can't hold very still for the 20 minutes or so it can take to get the needle into the right place in the spine. This will be quick and easy and no one told us. We both thought that Liz was going to have to go through this spinal injection every two weeks.
The other thing we asked was whether the benefit of the radiotherapy was worth the discomfort. A good question at this time as it can bring sickness and tiredness and we had no idea of the benefits. Dr Allotey was pretty clear in his own mind that the benefits far outweighed the cost, and that was good enough for Liz. She will go ahead.
Liz is on parole for the day today to see how she gets on. She will be at home for the day (to enjoy the weather!) but she is very weak so I am not sure how it will go. However, I am sure she won't be able to cope with visitors as well as everything else, so, as the old credit notice behind the bar used to say, please don't ask as refusal often offends. Thank you.
We enjoyed the weekend. It was lovely to have Liz home, and she really enjoyed being here. The weather yesterday was a bonus. We sat in the sun room with the French windows open, we watched the chickens, we listened to the birds, and we read the papers. It was wonderful.
Getting Liz out of the hospital was, as you can imagine, a little bureaucratic and there was what can only be described as a cock-up over her drugs. There is a piece of paper work called, I think, an ATT (Authorisation To Takeaway?) which allows the hospital to issue her with drugs without discharging her. (This will no doubt make sense to any of you employed by the health service, but is a little opaque to the rest of us). Anyway, this document had been signed, but the nurse in charge was new to the job and still wouldn't let the drugs out.
Fortunately, when the hospital staff ask me to bring all Liz's drugs in, I am not quite stupid enough to actually do it, so we still have some of Liz's drugs here. This is precisely so that, should we ever find ourselves up against this sort of bureaucratic obstructionism, there is no need for Liz to suffer. And so it proved this weekend – we received no drugs from the hospital, but she was still able to come home without having to forego her medication. If I hadn't taken this simple precaution I don't think Liz would have been able to come home at all.
Lovely though each day was, we decided not to have Liz home for the entire weekend at one go for a first try, so she went back to the hospital on Saturday night. With hindsight this was a mistake as the journey was quite tiring. I made an early dinner at 6 o'clock on Saturday and 5:30 on Sunday, but Liz was still absolutely shattered by the time we had to get her in the car for the journey back. The car journey was tiring and then getting her sorted out back in her room the other end only made it worse, but then she slept for an hour or so and felt a lot better. This happened on both days, but if she had stayed here on Saturday night, it would have been much easier. Next time.
We did learn two things this weekend. One, that the no visitor rule was sensible at this stage. Liz is extremely weak and as I said she was exhausted by late afternoon – any visitors would have just made this worse. Sorry. And two – that having to liquidise food just adds another level of stress to meal preparation. However, I had my trusty spreadsheet timetable prepared for Sunday and it helped a lot. We had roast chicken (from Morrisons – I wasn't doing that myself this weekend), roast potatoes and parsnips, steamed broccoli and cauliflower, and red cabbage. All liquidised in the new liquidiser and at which Liz expressed her extreme approval. A good weekend.
I may need to apologise to the City hospital. Early yesterday afternoon, one of the doctors came to see Liz and summarise where things were, and as we questioned him about the sequence of various treatments he suddenly realised that there might be a problem.
He said that inserting the reservoir in Liz's head would almost certainly upset the radiotherapy plan, as it could attenuate and scatter the x-rays. If the reservoir were fitted first, the whole plan would have to be redone – including the much dreaded mask preparation – which would create a delay of a few weeks. The alternative, fitting the reservoir after the radiotherapy had finished, was not an option as the radiotherapy produces inflammation which would make the surgeons work difficult.
At this point, Liz broke down. She very much needs certainties at the moment, and suddenly what was a clear plan of action had gone pear-shaped – it was all too much. Whether the doctor should have told us there and then that there might be a problem is another point – I think it might have been better to establish the actual situation before saying anything. But be that as it may, we then reach the point at which I may have to apologise. Within the hour he returned to say that he had achieved agreement between all three departments – haematology, radiology, and neuro.
He told us that Liz would be moved back to QMC today (Tuesday), that the reservoir operation was scheduled for Wednesday or Thursday, and that when the operation was over she would either be discharged home, or sent back to haematology in City Hospital to recover depending on how she was. And best of all, the chief radiologist had said that, so long as the reservoir was not fitted to the back of her head (where it would cause the position of her head to alter in relation to the machine) it would make no difference and the radiotherapy treatment plan stood. A great relief.
So, today Liz should move back to the QMC but where to and when we don't know. Then comes the preparation for the operation on Wednesday or Thursday. I will keep you posted.
Quick one today as this morning is a bit busy.
Liz was moved from City Hospital to the QMC yesterday afternoon and is first on the list for surgery this morning. She should be going down at around 8:30 and back on the ward by 11. We were told it is a straightforward operation.
She will probably have a day or so in QMC and when she is ready they want her back at City to check her over, do a few more blood tests and then they will, with luck, discharge her. Maybe the end of this week or more likely the start of next.
Once she was ensconced at QMC, her original neurologist came to see her and pointed out that any improvement in her symptoms is likely to be slow as the nerves simply don't recover that quickly. It looks as if the improvement noted by her doctor the other day may have been imagination. Having said that though, he then made her day by making an appointment to see her again in three months.
Not a great deal to report today, but it is good. Liz had her reservoir implanted yesterday and it all seems to have been successful.
She was scheduled first on the "list" and at about 8:30 was duly wheeled down to the preparation area. The surgeon looked at her and decided that he would prefer to work with a CT scan, so back Liz came to the ward.
(It would have been very difficult for me to be there at 8:30 both because of the physical difficulty of getting into Nottingham at that time of day, but also because it is a women's ward, Liz is in a six bed area, and at that time of day they are washing and dressing and any male is an unwanted intrusion. So I didn't get there till later.)
So, somewhat disappointed, Liz waited back on the ward imagining, like me, that - knowing how these things tend to work - the whole thing could well find itself not happening. However, things move when they have to, Liz was quickly whizzed off for the CT scan, and they took her down to theatre again at about 11:00. Because I had appointments yesterday morning I arrived about 2 minutes before she went – much, much better that two minutes after – and was able to walk with her as far as the theatre lift. We both felt better.
I had been told that the "op" was straightforward and Liz would be back on the ward in about 2 hours, so off I went for breakfast. I then sat and read the paper for a bit and then decided to walk right round the perimeter of the hospital just to see how far it was (about a mile I reckon). All that managed to kill about an hour and a half, so I thought I would go back to the ward and be there when she got back.
Unhappily, 1 o'clock came and went and no Liz, and an hour later, still no Liz. We are both now at the point where, if there is any deviation from the agreed plan, we get very worried and stressed and I was certainly both. So, despite not wanting to bother the nursing staff as they are clearly rushed off their feet for most of the time, I told the ward nurse I was in desperate need of reassurance and I must have looked pretty worried because she went off, phoned down to the theatre and was gone a long time. I was pretty near frazzled by the time she got back, but all was well. The theatre schedule meant that Liz hadn't actually gone in until just before 1:00, and would be back on the ward nearer 3:00. Relief.
From then on the ward staff kept me updated regularly and it turned out afterwards that Liz was in the recovery room and, knowing how late she had been, was frantically trying to get somebody to phone the ward to let me know she was ok. At the same time I was at the other end doing the same thing. And so it was, at about 4:00, she was wheeled back in and we both breathed a huge sigh of relief. She had a headache, which is apparently quite normal and it was held in check with painkillers. I left about 7:30 and she was dropping off to sleep.
Neither of us is very sure about exactly what happens next, but she will probably stay at the QMC for today and we know they want her back at the City when she is done. It looks as if she might be discharged sometime at the weekend or early next week, and if its early next week, she might get home at the weekend anyway. Fingers crossed.
She's home !
Liz was discharged from the QMC yesterday afternoon, and we came home to a delicious dinner cooked by her brother John (who is over from France to see her, and staying with us for a couple of nights).
We are both feeling completely overwhelmed by everything, and desperately wanting some peace, quiet and "us" time so we are hoping for a restful weekend.
More early next week when I find out a bit more myself.
Well, we did indeed have a lovely quiet weekend. The weather did us proud and we sat on the sofas with the French windows wide open enjoying the quiet, the sun, the chickens and the birds. Just what we needed.
I had a phone conversation with our GP yesterday who has pointed the mighty leviathan of the NHS at Liz. She will be visited by the district nurse, the palliative care team and, if the appointments work out, by our GP. All to make her comfortable. He has also prescribed the little blue pills that keep Liz calm when she is having to wear her radiotherapy mask.
I also spoke to Liz's myeloma nurse who, helpful as ever, is sorting out the appointment for Liz's chemo on Friday in Derby. This is when they inject the chemo into the reservoir in Liz's head, where it will go straight into the fluid surrounding her brain, and thence to the whole spine. Sounds horrendous but is apparently completely painless, but it can have some side effects. Dizziness and nausea are the two most common, but they should be short lived, so fingers crossed there.
Not much more to report at the moment, but I will keep you up to date.
In the last couple of days, we have seen our GP and the district nurse. Largely just for information, but also to let us know what services are available, now and in the future, and they are putting us in touch with the McMillan Nursing charity.
Liz had her second chemo yesterday, into the reservoir in her head. It always takes a long time because the pharmacy wait until the patient is in the hospital before actually making up the chemo and we found out why. The doctor administering it reckoned that what went into Liz's head yesterday costs around £7,000. And she will be having one per fortnight. Staggering.
The chemo is administered by injection. The needle is inserted into the reservoir (it is completely painless), some of the existing fluid is drawn off for analysis, and then the chemo is injected. It goes from the reservoir straight into the fluid round the brain from where it circulates all round the brain and the spinal column (in exactly the same way as the myeloma cells are doing).
Liz was expected to show some short term symptoms immediately afterwards, and she did. She felt dizzy (drunk she said) and nauseous. A bed had been arranged for her and she lay down and slept for a bit. Her haematology consultant came up to see her and during quite a long and friendly chat, let slip that he was a little disappointed that there had been no reduction in the symptoms (in fact her other eye has slowly been closing) and this, understandably, upset Liz a little. But you know Liz – it didn't last long. Where does she find the strength?
The medics thought that the symptoms would probably last about an hour, but they weren't sure and in the event after about 2 hours, Liz was sick and immediately felt better. We probably know now what to expect next time.
We hope to see Vicki, Naresh and the granddaughters this weekend, otherwise we are looking forward to another couple of quiet days together before the radiotherapy starts next week. We are both a little trepidatious(?) about that so fingers crossed please, and let's hope for some nice weather to start us off well over the weekend.
Oh dear, Liz is back in hospital again.
The weekend started so well, we had a lovely day on Saturday, the sun shone and Liz seemed to walking better than she has been for a few days – further than previously and more easily too. She was eating well, but put that down to the anti-inflammatory steroids she is taking after the chemo. But - she had brought Friday night's dinner back up at some point in the night.
Then by Sunday morning she had also brought Saturday night's dinner back too. And she brought her morning tablets back up. And anything else that went down. And she had a bad headache. When this hadn't improved by about midday, I reluctantly called the hospital and they said that, as she had been vomiting and hadn't kept anything down for 12-18 hours she could well be dehydrated and to get her into the madhouse of the Medical Assessment Unit immediately.
We arrived just before 2:00 and it didn't seem as chaotic as we are used to. They soon found her a bed, took some blood and sent it off. What they didn't tell us was that they wouldn't do anything until the blood results came back as they wouldn't know exactly what to put in the re-hydration drip until then. This caused some anxiety on my part as she was there for rehydration, and her headache was getting worse, presumably as a result of dehydration, but nobody seemed to be doing anything. Also, I had been told that there was a bed waiting for her in ward 302 (the haematology ward) and the longer it lay empty the more likely it was that it wouldn't be there when Liz was ready.
Anyway – at around 5:00 they finally got a drip in, and a little later she was moved up to 302 - which is a bit like home as she knows all the nurses and HCAs by name – a lot more comforting than the MAU.
They have decided that, because of all the drugs she is taking she is fairly seriously "bunged up", and may also be having a reaction to the chemo (although she had no reaction that we remember to the same chemo when it was given by lumbar puncture). They said that being "bunged up" would probably be adding other difficulties so they would "un-bung" her some time last night and see how she was. I have just spoken to the ward (07:30) and she is a lot more comfortable this morning. Good.
It seems likely that this will postpone the radiotherapy – the absolute last thing she needs – but we shan't know exact details until after a consultant has seen her this morning and liased with Nottingham. We may know something by about midday - a real cliff hanger that we would do without.
Liz was a little more comfortable yesterday, but still quite poorly. She slept most of the time I was visiting, and when she was awake, she was still retching but a lot less violently than when I took her in on Sunday. She is being hydrated and fed her meds intravenously but I am not sure exactly what her regime is, particularly her pain killers. I will try to establish exactly what she is having when I visit today.
The trouble is that they are just so busy. Liz had a cannula fitted when she arrived on Sunday, but they fitted it to the inside of her elbow. Not a good place long term because every time you bend you elbow, it blocks. When the happens, the machine shuts down and starts beeping and it drives everyone mad. Liz had been having this trouble ever since she got in with the machine was beeping for longer than it was working, and because of this, the fluids weren't going in.
The staff had been promising to do something about it but hadn't, but when I was there in the evening the existing one finally blocked and forced the situation. The poor sister who did it was four jobs deep already, all of them just as important, and right in the middle of Liz, her fifth, one of the high level hospital managers phoned and asked her to find a bed (or something – I didn't hear the conversation). Poor woman – she didn't know which way to turn next.
I spoke to the ward this morning and overnight there was little change, she is sleeping a lot but still can't take anything orally. Longer term, the Derby hospital registrar has been talking to the radiotherapy department in Nottingham, and the radiotherapy is on hold until she is felling better. They can't give her the treatment in her current state.
Liz was much brighter yesterday, and a good deal better. During the day she managed to get down a litre and a half of water, a disgusting potassium drink, a cup of what she is pleased to call tea, and a bowl of soup. She also took all her medication orally, and kept it down. A huge improvement.
She had her catheter out last night and we were hoping for discharge today but as of about 09:00 this morning she still had a cannula in and a drip connected, so we will have to wait for the doctor's round to see where we are. Everything is, yet again, very tense as the timing is critical if she is to start the all important radiotherapy tomorrow afternoon in Nottingham.
Pray, and / or fingers crossed please that we get her there.
Liz was again a good deal better yesterday, back to her old self. She was cleared for discharge today and we have told them that we have to be away by 1 o'clock for the appointment in Nottingham which has now been brought forward twice.
I am not at all sure how this afternoon will go. We have the necessary "little blue pills" and she has her iPod with an appropriate playlist, but I am excluded from the proceedings once the treatment actually starts so she won't be able to hear my voice. It's not just vanity to suggest that she will struggle without me, as I know it is also true, so please wish her all the strength she can muster for (currently) 2:40.
I keep meaning to let you all know that, because she was having difficulties and couldn't use her phone, either to call or to text, all the incoming texts upset her as she couldn't reply. Eventually I had to turn her phone off, and it has been off ever since. I am not sure if / when it will go back on – it depends on whether she is able to reply to all the texts.
If this continues, it means that old fashioned snail mail will be the only way to contact her. I am sure she will get back to more modern communications at some point, but that's how it is for the time being.
Yesterday went well. The hospital had Liz all ready for me to collect when I arrived with her clothes about midday. We got her dressed, she had some soup, then a nap and we left about 1:00 arriving in Nottingham in plenty of time for the pre-treatment briefing. Liz popped the first of the little blue pills (which are actually white) and then a nice radiologist spent about 20 minutes with us explaining what was going to happen and answering questions.
If Liz behaves as normal, in a week or so, she will get some inflammation of the skin and she will start to feel nauseous and tired. This will last beyond the end of her treatment, but hopefully only the same week or so. She will have to wear the dreaded mask for different amounts of time depending on exactly what they are going to do on that day, but the maximum time is about 25 minutes and the minimum about 15 minutes. 25 minutes is what we had been warned to expect, so the 15 minute days (like today) will be a bonus.
When the time came for her to go in, she popped the second pill and in we went. I was fairly quickly booted out – we knew this was coming – but they set the iPod up, and Liz seemed fairly happy. I sat outside and waited for about 20 minutes to make sure all was well before nipping off for a coffee. When I got back the radiologist came out to tell me it was all going well, and a few minutes later it was all over.
Liz came out quite happy if a little woozy, and said she needed a cup of tea. She had her tea, I got her back in the car, and we set off. Within 10 minutes she was fast asleep, and asleep she stayed all the way home. Tim and I poured her out of the car and into her wheelchair to get her in the house where she brought back the cup of tea and went back off to sleep on the sofa.
We have arranged a carer to come in on Thursday evening to prepare us a meal, and give me a night off, and Melanie turned up at 6 o'clock. There wasn't much for her to do last night as Liz's church are arranging dinners for us while Liz is having the radiotherapy, and Liz was resolutely fast asleep. She did eventually wake up about 8:30, have a cup of tea, speak briefly to Melanie, bring the tea back up, and decide she wanted to go to bed. We thought that Melanie might as well start there and then and get to know Liz so I was bundled off down the pub from whence I returned around 9:45 to find Liz still fast asleep. I woke her for her night-time tablets which she appears to have kept down.
The being sick is worrying as it has been an ongoing problem and it makes keeping medication down impossible, so she has started a regime of anti-sickness tablets and we will just have to see how they work. If she can't keep anything down it will probably be back in hospital and postpone the radiotherapy. Sorry – fingers crossed and prayers are required again…..
The radiotherapy went well yesterday. Liz tried it with just one little blue pill instead of two, but decided that wasn't quite enough but again she went to sleep in the car and slept for an hour or two when we got home. So, on Monday, she is going to try with just one pill again, but taking it an hour before the appointed time rather than half an hour. If that isn't enough either, we will go back to two pills, but that will certainly make her sleep for several hours afterwards.
To alleviate the sickness problem (see yesterday), Liz started the day yesterday with an anti-sickness pill which we left for 40 minutes before attempting all the other pills (which were washed down with slices of particularly juicy melon) and it seemed to work. She did retch for a few minutes an hour or so later, but kept all her pills down. The next worrying time was immediately after the radiotherapy when she declared that she wanted a black coffee. The coffee at the City Hospital is good stuff so I was a bit concerned but all was well and, apart from the one episode in the morning, she had no vomiting problems at all. Lets hope today goes as well.
It looks as if it might be another sunny day, so we are hoping for another quiet weekend, with just the two of us, sitting in the sun room enjoying being together. Here's hoping.
We had our quiet weekend, although Liz's was livened up by the discovery of a completely revamped front room. It's a long story, but those of you who have visited our house will know that we have never managed to get our rather lovely front room right. Last year we decided to pass the task over to two friends whose taste in furniture we rather admired, but plans never progressed much beyond initial discussions.
So, a couple of weeks ago I kicked the whole thing off. Carte blanche was given, new suites were ordered, much shopping was done (by the two ladies involved, not me) and at last all the parts were assembled at Julia's house.
Then, last Friday, while Liz and I were over in Nottingham, it all happened. The suite, which had been made by a local family run furniture maker, (Martin & Parker, who had been incredibly helpful in the circumstances), was delivered bang on time. The two ladies had a slot of about 2 hours to get everything into place, old suite out, rug on floor, new suite placed just so, pictures hung, lampshades changed, cushions plumped, bits and pieces sorted. Then they left with the front room complete, but no visible signs that anyone had ever been there.
I managed to resist the temptation to peek and on Saturday, Julia came round, saying that she had an idea for the front room and wanted to talk to Liz about it. Then, with a flourish of "I wondered what you would think if it looked …… like this!" we showed Liz into her new front room. She was overjoyed – something she has wanted for a long time now, and we have spent every evening in there ever since.
On other matters, Liz went over for her third treatment yesterday and she took a single blue pill an hour before going in, which seemed to work. This is just as well, as her little blue pill is making my life quite difficult at the moment. The problem is that she is just, simply, dozy, both mentally and physically for hours. She can't stand up as her legs buckle, and she is so blissed out that nothing seems to matter. Getting her to bed is a bit of a nightmare, and getting her up the next morning isn't much better.
It is obviously helping her get through the treatment, but I have had to get help in for the mornings and I think I will try getting her straight to bed when we get back from Nottingham in the afternoon, as she just sleeps for the next five or six hours anyway. I will also need help for this, but it is being organised and the first carer comes in this morning for an hour. We will have to see how it works out.
Meanwhile, I had a call from our ever-helpful myeloma nurse at the Derby hospital yesterday and among other things a bit of good news. When they give Liz her chemo through her reservoir, they start by drawing off a little of the fluid for analysis and, in the fluid they drew off a week ago last Friday, there appears to be no myeloma cells. I am not sure of the significance of this, and I doubt we will be able to discuss it with consultant much before the 25th at her next clinic, but whatever transpires, surely no myeloma cells has to be better than some myeloma cells.
Not much to report over the last couple of days really. The two carers who come in, one in the morning to get Liz up, and one in the evening to put her to bed, are a boon and have made both our lives much easier. Helping Liz walk around the house in her current state produces enormous levels of stress in me, which is reflected in how I react to her while we are doing it, and all that is now gone.
For the time being, blue pills and all, the evening carer is putting Liz to bed around 6:30. She is mostly asleep when the carer gets here and pretty much goes straight back to sleep when she gets to bed. I wake her at 10 for her night-time pills - although she rarely seems to remember this – and she then sleeps like a log through to 7:30 when I wake here again for the first of her morning pills. The morning carer then comes in around 9:30 and gets her up. It will get us through the next couple of weeks, and we will have to see how things go after that.
The treatment continues with no major trauma as Liz is now used to the people (who are all very nice) and it all seems routine. She selects a playlist on her iPod, which she takes in and it seems to get her through the next 45 – 50 minutes. Getting home from Nottingham is a variable feast – we left the hospital last night around 4:45 and it took an hour and a half to get the 25 miles home. Hey ho.
More when there is more to report.
Spoke too soon. I got a phone call yesterday morning at around 9 o'clock from the radiotherapy department in Nottingham – the machine was down and all treatment had been cancelled for the day. We were warned when the treatment started that this happens from time to time, and as the machine is one of only six in the entire country (it must be hideously expensive) there is no backup. Liz was not entirely surprised as it had been playing up when she was there on Wednesday. (Presumably they had tried switching it off and on again …….).
The prospect of a day off was not unpleasing, however. For Liz as it meant a day without her blue pill, and for me because I have spent every day for the last two-and-a-half months tearing about either to hospitals, either in Derby or Nottingham. Things got a bit better / worse (not sure which really) later in the day when a further call told me that the machine would be down today (Friday) as well so we have a clear four day run which we intent to enjoy. This will involve a lot of lying down in our new front room (see picture below) and doing not very much.
The down side to this is that it means Liz's treatment has to be extended by the missing two days which means the last day clashes with her next myeloma clinic when we will be able to quiz the experts a little more on the meaning of the absence of myeloma cells in her last spinal fluid test (see Tuesday 13th). I hope we will be able to resolve this one next Monday when we go back to Nottingham again.
I will report again when there is something to tell you, but in the meantime, Liz and I intend to enjoy a few days well earned peace and quiet.
Ladies and Gentlemen, I give you - Liz's new front room:-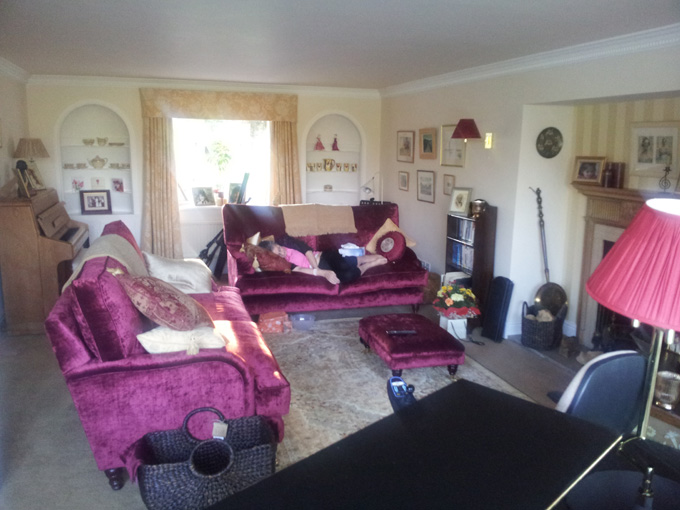 Not, perhaps, the best photo I have ever taken. Also there is no doubt that Liz, asleep on the sofa detracts somewhat from the overall design, and I almost certainly forgot to plump the cushions (a most important process I have been led to believe), but you can get a feel for the place.
Spoke too soon. I got a phone call yesterday morning at around 9 o'clock from the radiotherapy department in Nottingham – the machine was down and all treatment had been cancelled for the day. We were warned when the treatment started that this happens from time to time, and as the machine is one of only six in the entire country (it must be hideously expensive) there is no backup. Liz was not entirely surprised as it had been playing up when she was there on Wednesday. (Presumably they had tried switching it off and on again …….).
The prospect of a day off was not unpleasing, however. For Liz as it meant a day without her blue pill, and for me because I have spent every day for the last two-and-a-half months tearing about either to hospitals, either in Derby or Nottingham. Things got a bit better / worse (not sure which really) later in the day when a further call told me that the machine would be down today (Friday) as well so we have a clear four day run which we intent to enjoy. This will involve a lot of lying down in our new front room (see picture below) and doing not very much.
The down side to this is that it means Liz's treatment has to be extended by the missing two days which means the last day clashes with her next myeloma clinic when we will be able to quiz the experts a little more on the meaning of the absence of myeloma cells in her last spinal fluid test (see Tuesday 13th). I hope we will be able to resolve this one next Monday when we go back to Nottingham again.
I will report again when there is something to tell you, but in the meantime, Liz and I intend to enjoy a few days well earned peace and quiet.
Not much to report really, we had four lovely days off with just the two of us, and yesterday went through straightforwardly.
Carers continue to get Liz up in the morning and put her to bed at night. Ronnie (my ex-wife) recently said to me that, when she was in a similar situation, the carers allowed her to be a wife rather than a carer, and I have found the same effect. I am much less ratty and more relaxed, so an all round good thing.
Radiotherapy is now half way though – 6 visits complete and 6 more to go. Just hope the rest are as straightforward as the one yesterday.
Bit rushed today so it's a bit short, but basically there is nothing to report. The radiotherapy continues, Liz's blue pills seem to accumulate over the week making her ever more tired as the week progresses, but otherwise she is fine.
Eight down and four to go…….
All of Liz's treatments last week went through without a hitch. Sometimes they take up to an hour, sometimes as little as half an hour, we just never know, but there are only two more to go.
The bad side of this is that Liz's hair is falling out. Again. In great handfuls. It is really distressing, and something that is bad enough once, but twice in a twelve month period is hard, and it made Liz a bit weepy. It did at least start on a Saturday which means that the worst should be over by Monday morning when we have to go back to Nottingham – it looks better either with or without, halfway is probably the worst. Back to the hats.
We are enjoying a very quiet weekend in the peace of the new front room, and we will both be very glad when Wednesday comes and we can have a few days without tearing around trying to meet deadlines.
It will finish with rather a bang though. Because the machine was down for two days last week, Liz's treatment has been extended by two days, and that means Monday and Tuesday. But Tuesday is the day of Liz's next appointment with her haematology consultant, and one we really don't want to miss, so it has been rearranged. To 9:15. That might not be too bad for most folk, but it means getting Liz out of bed around 7:30 which is going to be no fun at all……
It's been a busy week so I am sorry there have been no reports, but we are both exhausted.
Liz's treatments on Monday and Tuesday went without a hitch, but it was very clear when we saw the radiotherapy doctor after the final visit that the treatment was experimental. He said something along the lines of "future patients who have this treatment will be very grateful for your experience". Because Liz's condition is so rare, we do seem to be benefiting from the fact that the doctors are willing to spend large sums of money on treatments to see how well they work.
As well as the Nottingham trip, we went to a clinic appointment with the haematology team in Derby on Tuesday, and they had some good news – Liz's magic number count is down to normal again. This ties up with the finding we heard about a week or so ago that there were no myeloma cells in her spinal fluid. This was tempered by the statement that it didn't change the diagnosis or the prognosis though – the myeloma will be back. It's strange, having spent the last three weeks just getting though the next visit to Nottingham, the next day, the next hour, this statement brought us both back with a bump. In the bustle of just getting through, we had both lost sight of the larger picture – it was a sad moment as it all came home again.
As a result of a blood test taken after the clinic, they have discovered that Liz's blood is short of just about everything – white cells, red cells, and all sorts of other stuff, which, combined with the tiredness as a result of the radiotherapy, will account for her exhaustion. So, tomorrow (Friday), she is going in to the Royal Derby for the day for some transfusions and to have her next chemo. (The haematology consultant said that current thinking was that the chemo should continue for two more injections after the magic number has dropped to normal, so Friday is one, and the last will probably be somewhere around the 12th July.) Let's hope she doesn't have to stay in overnight, but the chemo made her very sick last time. Even though we are better prepared this time it would do no harm to wish her luck.
Yesterday, by contrast with all this rushing about, we spent in gentle catching up – Liz with rest and sleep, me with phone calls and paperwork, and it was very nice indeed not to be haring off anywhere. We even had time to get Liz out of the house on her trolley and round to her greenhouse, where she had a bit of a discussion with Roy the gardener about what was going on garden wise – something she hasn't done for weeks.
More over the weekend when we know how things are going.
Liz went into the Royal Derby on Friday for her chemo and her blood transfusions. They had requested a bed for her as the chemo usually makes people dizzy, or woozy, for an hour or two, and the blood would be easier. The bed didn't become available until about 12, and it then became a bit of a rush to get her ready and in as we had to pack for a possible overnight stay.
In the event, the chemo didn't arrive until 3:30 but it went in without a hitch and Liz did indeed feel woozy and the bed was very welcome. The blood, however, took a long time and at about 8 o'clock that evening when the first of the two units had just started I went home as the second unit wouldn't finish until 11 at the earliest.
I got a call from Liz at 9:00 on Saturday morning to say she was all done and ready to come home, so in I shot, getting there at about 9:30 only to find that she still had a cannula in, her face was looking a bit flushed, and her forehead felt hot. Knowing how hospitals are, we have had this arrangement about coming to collect her – she won't phone to say she is ready until she is out of the bed, dressed, packed, sitting in a chair by reception waiting for me. Unfortunately, Liz didn't stick to this on Saturday, so I was there from about 9:30 until 12 – the time it took to remove the cannula and take her temperature twice to ensure that she was OK.
Eventually we got away, but I was getting towards the end of my tether. The afternoon and evening were lovely, though, just Liz and me, phones off, two sofas and a tele. Sunday followed the same pattern and we had a lovely quiet weekend – just what we both needed.
Unlike last time, there have been no after effects from the chemo, beyond the immediate wooziness that wore off in a couple of hours. (If you remember, last time, by the Sunday she was being sick every 20 minutes and had to go back in to hospital for 4 days). The blood did her a lot of good too, and she was far more lively than she has been of late, (but her consultant is keeping a close eye on it and she has to go for another blood test on Thursday). She even started using the Zimmer frame again yesterday which gave her a degree of independence that she hasn't had since early April. All jolly good.
We have a few appointments in the mornings this week, but we are hoping to keep the afternoons free for more visitations with said sofas and tele as rest is still definitely needed for both of us.
Sorry there's been nothing for a few days, but there have been no major upheavals, good or bad, and we have had a lot of time to rest and recover. The weekend was particularly good with the wonderful weather, and the granddaughters popping in on Saturday. Exhausting but uplifting.
There is also some good news. Firstly, the blood test last week showed that Liz is starting to make her own blood again after the radiotherapy and the transfusion. This should bring more energy and more stamina. Secondly, her symptoms are showing signs of ameliorating. Her left eye opens very easily, and the right (which has been closed since early April) is showing the occasional flicker of opening - although these responses start strongly in the morning but weaken as the day goes on. Liz herself is more robust, she recovers more quickly, she is eating more, sleeping less, but she still struggles for energy, tiring very quickly, and her legs are very weak.
The physio is now coming in regularly (she is here again this afternoon) and she is trying to build some of the wasted muscle back, but it is a slow job.
We now have care workers coming in regularly to help (I hate calling them that, they are all really nice, helpful, young women. What can we call them?). As Liz has recovered from the radiotherapy, we have suggested that the evening meal from the folk at Liz's church is no longer the necessity it once was, and so we are back to doing our own thing. When I say doing our own thing I mean that the evening task for the care assistant is shifting from just getting Liz to bed, to making an evening meal and then getting Liz upstairs. The evening meal is, however, likely to finish up as a joint effort as one hour isn't enough to do all the prep, serve the meal AND get Liz to bed. This is being worked out as we go along at the moment.
So – general positive signs for Liz's well-being, although the overall prognosis remains the same, but hopefully no sudden changes for a bit, and if that is the case my reporting will become more sporadic.
For the time being then, lots more rest for both of us, and please regard no news as good news.
Liz had her regular clinic appointment this morning and all seems to be going well. Nothing terribly untoward in last week's blood test, but they did another this morning and decided that she needed a bit of a top up, so she stayed in during the afternoon for a transfusion.
I am beginning to recognise the symptoms now, great tiredness being chief among them, so I will have to remember to watch out for it, but I suspect the medics will keeping close tabs on her blood numbers now anyway.
Other than that, not much to report. We are both benefiting enormously from quiet time in the shade of the trees in the back garden and we hope to keep it up for several days now – how long will the weather hold?
I will report again when there is something to say, but until then we will continue to be together and enjoy the peace and the summer weather. Again – no news is good news.
Sorry to have kept you hanging on, but we have just got back from a 12 day holiday in France, the last week of which was in a lovely gite with Vicki, Naresh, the two granddaughters, and Ronnie (Vicki's mum). We had a wonderful time, we all got on well together, the weather was very kind and we caught up with 2 years of infrequent contact with our two gorgeous four year olds. Wonderful it was – quiet it wasn't.
It wasn't until Liz's last clinic – at 12:00 on Tuesday 16th, reported above - that the doctor cleared Liz to go, and we had to leave the next day around midday. I had refused to do any sort of packing as I felt that might have been "pushing my luck" with Liz's fitness for the trip, so it was really taking things to the wire and got me thoroughly stressed out as you might imagine. That Liz had to stay in the afternoon for a blood transfusion didn't help either…..
The plan was to drive to Portsmouth on the Wednesday where we would stay overnight in a hotel and have dinner with my brother and his wife who we haven't seen for – hum – probably two years or more. The next day we would catch the early morning ferry (8:15 – up at 6:00) to Caen and drive to a beautiful hotel, (the Manoir du Lys - TripAdvisor's top recommendation for Normandy) about an hour away for a couple of days peace and quiet to wind down and let Liz get over the journey. Then over to the gite on Saturday where Vicki, Naresh, Asha, Sophia and Ronnie would join us on Sunday afternoon. We would then have a week together and on the following Saturday, make our way back to Caen (where I had booked Liz a cheap hotel room for the day), an overnight ferry to Portsmouth, and a three hour drive home. We got home yesterday afternoon, exhausted, and I thanked heavens for the frozen lasagne put in the freezer by a friend which we had for dinner.
Liz survived all this really well. The new car made the journey much more comfortable for her, with much use made of the back massage provided by the front seats, and so long as she got a short nap every three or four hours, she came though it all with flying colours. She really enjoyed catching up the missing two years with Asha and Sophia, and was able to contribute to the three grandparents giving Vicki and Naresh a bit of a break too.
One of the things that worried me was the stairs in the gite. We had booked this holiday in March when things were going so well, and stairs were no longer a worry, but now, of course, they are again and the gite had no downstairs sleeping accommodation or toilet. So, from eBay, I bought a small, lightweight, collapsible wheelchair – similar to a child's pushchair – with which I hoped Naresh and I would be able to get Liz up and down the stairs each day, and on the Saturday night the gite owner and I did indeed get Liz up the stairs this way. However, on the Sunday morning, Liz announced her intention of trying to get down the stairs by herself, and she did it. Better yet, on Sunday evening she got herself back up again – with some very hard work and a little assistance, but nevertheless, this is a huge improvement and one to be celebrated.
So, apart from the sheer volume of stuff that I had to get in the car - one normal wheelchair to be available throughout the journey as needed, the lightweight wheelchair mentioned above, Liz's electric trolley/scooter thingey, a portable commode (who knows when we might need that) - a portable shower stool (ditto), the three wheel walker, the four footed walking stick, two scooters for the girls (don't ask), two collapsible sun loungers, and, of course, Liz also expected to be able to take some knickers – a thoroughly enjoyable 12 days but very, very busy for Liz.
Unfortunately this week is also busy – she has an appointment in haematology in Derby tomorrow for a blood test and more chemo (into her head) which may leave her feeling very woozy. Then, on Wednesday, an appointment with haematology in Nottingham as a follow up to the radiotherapy, but I might try to get this postponed. Finally, Friday brings the physio back who, on learning of Liz's newly acquired stair climbing abilities, will probably give Liz a very hard time and leave her exhausted.
More at the end of the week…..
A few pictures from Normandy last week…..
Family picnic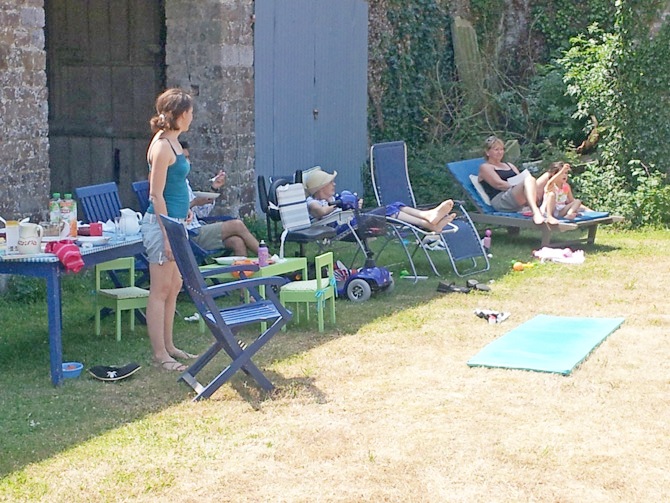 In the pool (note the super-cool shades). Note also that, despite appearances, Vicki is not trying to drown Sophia!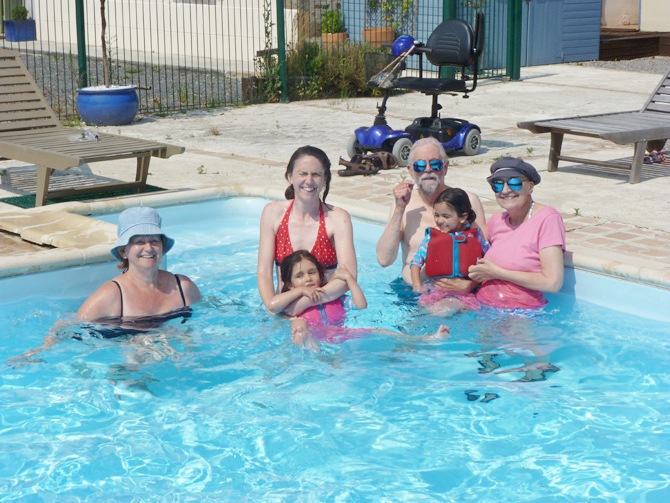 The twins were hugely excited at the prospect of doing Granny Liz's toenails. Their preferred shade is "Rainbow"!
It's been a busy week. We got back from France on Sunday and Monday was fairly quiet but on Tuesday we had to get Liz to Derby hospital for a blood test. This was followed an hour later by her regular clinic at which they had the results which were all OK. Her bone marrow is recovering from the radiotherapy and is starting to produce all the right cells again, but it is a slow process and they are keeping an eye on her.
An hour after the clinic, she went up to the ward where she had another chemo injection in the reservoir in her head and, as usual, it made her feel poorly. Dizzy, light headed, and this time round, quite sick. Once she has had the injection they like her to lie down for a couple of hours to recover and so that people are on hand if help is needed. She felt poorly and seemed to be sick every time she moved – move from the treatment room to the resting room – sick. Try to go to the toilet – sick. Try to get into the wheelchair – sick. Eventually, after about the predicted two hours, she started to feel better so we came home – and she was sick on the way.
By the time we got home we had been out of the house for about 8 hours, and it was pretty tiring, in different ways, for both of us. Liz went straight to bed where she went to sleep and stayed asleep until Wednesday morning.
On Wednesday we went to the clinic in Nottingham where the radiology doctors declared themselves very pleased with her indeed. When the chief radiologist checked Liz's right eye (the closed one) she discovered not only that Liz can now open it a bit, but that the eye itself is regaining normal movement – the only movement it can't do is upwards – another improvement. They told Liz that she is the first person to receive the treatment she had on their new machine and they were excited about the results. This really confirms what we suspected - that because Liz's condition is so incredibly rare, at least some of the treatment is experimental – but as long as it works, who cares?
Liz is very clearly doing a great deal better than any of the doctors expected which is very gratifying. One doctor asked, as she sat down, "how are you" and Liz's reply of "I'm doing very well thank you" received a startled "You are?". It made all three of us laugh.
Thursday brought the optician with Liz's new glasses and, nice though she is, and good though it is to have the optician making home visits, she is very busy and not a restful person to be round. The new glasses are, however, a success and Liz can now see much better. (She has been unable to wear her contact lenses since this whole thing started and has been using 20 year old glasses, but because she has such a high prescription, new glasses are extremely expensive and it didn't seem to be worth doing until here eyes had settled down, which they now seem to have done.) We did get a couple of hours dozing on the sofa though.
Today, Friday, brings the physio, very early (for us) at 9:30 so it will be another rush to get Liz up and ready. Everything seems to be a rush – there are always people coming or going and while they are all very helpful and I don't think we could do without them (cleaner, gardener, carers etc) it does mean there is little time alone. I just don't know how to quiet things down but I am hoping that the weekend will bring no interruptions and we can start to recover from the lovely, exhausting holiday in France followed by a very busy and demanding week.
I will let you know how it goes…..
Well, the weekend went reasonably well. It was indeed fairly quiet, but Liz had a bit of a vomiting episode on Sunday afternoon. Not normally worth reporting, but it happened immediately after she had taken her 3 o'clock pills and she felt delicate for the rest of the day. So much so, that at bedtime she decided to skip her pills in case they made her sick again.
Then, at about 3 o'clock in the morning, she woke me to say she was in a lot of pain – crying in fact – and it was the same sort of pain she was suffering when all this started. I thought this had disappeared, but alas, it appears it hasn't.
Liz is taking two different sorts of painkiller – morphine which is good at dealing with soft tissue pain - and pregabalin which is for nerve pain. I have been reducing her morphine dose over the last three or four weeks – very slowly as morphine withdrawal is extremely unpleasant – with no noticeable effect. On Sunday, however, the vomiting up of the afternoon pill followed by not taking the night time one had the effect of depriving Liz of pregabalin for about 18 hours when she should take some every 8, and it was this that let the pain through. I gave her her morning dose immediately she woke me and within half an hour it had started to work, but it took 24 hours to re-establish the low pain levels that she has had for the last couple of months.
A salutary lesson. The pain has not gone at all but it is being well controlled by the pregabalin. The morphine appears to be less useful, and I will continue reducing it very slowly and watch for the return of any symptoms. It would be nice to get Liz down to a much lower dose as morphine does make one very dozy. Pregabalin does too, but reducing that is clearly going to be approached with a great deal of circumspection.
In other news, Liz had to go in to the Royal Derby on Monday for some more blood, but her blood numbers keep rising slowly – indicating that her bone marrow is recovering nicely from the radiotherapy. Some of the counts (white cells, platelets) are pretty nearly normal now and they are just topping up the red cells, so lets hope she is producing normal blood in a week or two and no more transfusions.
When they give her the chemo in the reservoir in her head, they start by drawing off a sample of the fluid for analysis and the last time they did it, it showed no myeloma cells. Previously when we heard that news, it turned out that the count wasn't actually zero, but very low. That, at the time, was a great deal more believable but now, with a specific email from the consultant that there were no cells at all, zero is both believable and extremely welcome.
Liz still gets very tired, but long term weariness was always predicted as a result of the radiotherapy, and it can take (and apparently is taking) months to get over it. It means that visitors are still very tiring and restricted to family at the moment, but please keep the letters and cards coming as Liz loves to get them, even if she can't always reply.
A busy few days. All was plain sailing after the last report until last Friday when Liz developed what looks like the tummy bug that is currently going around. Sickness and diarrhoea. Just what she needed. It went through Friday night and Saturday and I was feeding her rehydration salts and little blue anti-diarrhoea tablets from Sainsbury's. This seemed to work and Saturday night was clear. Sunday was clear too, as was Monday, but then it struck again on Monday night.
I phoned the hospital on Tuesday morning as there are large notices at every entrance saying "Don't come in if you have the trots" (I paraphrase here) and she had a clinic scheduled after which she was supposed to have her final chemo. After some discussion between me, the myeloma nurse, and the haematology consultant we agreed to postpone the clinic until next week, and keep and eye on the S&D as dehydration is clearly a potential problem. None of us wanted Liz to go back in to hospital.
Then, yesterday morning (Wednesday), the usual morning carer called in to say that she was suffering from it, and I remembered that the evening carer had said her young son had something similar on Monday night, and I wondered if a pattern wasn't emerging. One of the things that had puzzled Chris (the myeloma nurse) was that, because Liz had one episode on Friday/Saturday and then nothing until Monday night she clearly didn't have a 24 hour bug, nor (because Sunday & Monday were clear) did she have an ongoing problem. It occurred to me that poor Liz might have had it twice. Two separate events – possibly brought in by the carers. I am not accusing the carers here, Liz's immune system is still currently compromised and not at full strength so she is particularly vulnerable, but it turns out that both the care agencies we use have clients suffering from S&D.
So – I have cancelled all care for a week to see how things go. Not something I am looking forward to, but what else can we do? It will mean more work, but the last few days have been pretty hard work and exhausting for both of us, and it is not entirely bad as it will be nice to have a few days with no fixed appointments in the day just to "freewheel".
At least – that's what I keep telling myself. More next week.
Not the best of weekends. We had booked a long weekend away at Thoresby Hall in north Nottinghamshire – about an hour away – mainly as a rest for me (no cooking) but it would be good to get Liz out for a change. It's a good place for us oldies, the food is excellent, they serve Guinness, and it's peaceful. On Friday morning though, Liz was sick again and brought back all Thursday night's dinner, but by midday she seemed fine so we set off.
The journey was uneventful, we booked in, had a little lunch in the bar and settled down for an afternoon nap. Dinner was taken in the Blue Room – their "gourmet" restaurant – mainly because it is very quiet, and the service incredibly attentive. I took Liz off to bed after the main course, and having established that she could phone me if needed, I sat down to finish the meal and my beer. A good evening.
Unfortunately, Liz woke up on the Saturday with sickness and diarrhoea again. It was a bit of a problem - it would be difficult to stay there with Liz in that condition because the journey from bed to toilet needed the wheelchair which meant that I couldn't leave her for a minute, not even to go and eat. However, it wasn't that simple. Our stair lift had broken on Friday and I had already arranged for the repair man to come out on the Monday. However, this meant that, if we did go home, there would be no stair lift and Liz couldn't get to bed. So we couldn't stay and we couldn't go home. Stress.
Fortunately the stair lift man was very helpful and agreed to come out on the Saturday afternoon. (A good local company to get your stair lift from, should you ever need one – AM Stairlifts of Nottingham). So, having missed breakfast entirely, we decided that we would be better off leaving Liz for an hour or two to see if she settled down, then going home, although the prospect of the journey was worrying.
As it turned out, the journey was, shall we say, uneventful. I got Liz home and onto the sofa, where she promptly fell asleep. The stair lift man appeared as he said he would and, although the repair was rather more involved than either of us had imagined, he left us with a working lift. So, at about 6:30 I fed Liz some tomato soup and mashed potato, after which she went to bed, and went to sleep again. I was able to nip down to Morrisons and get some food for the weekend, and some fish and chips for my dinner.
Throughout all this though, Liz's ability to walk was very poor indeed. She was obviously very weak from the vomiting, and because of it, had actually managed to keep down very little food. I was a bit worried that I might be starving her, although dehydration appears less of a problem, so my immediate task was to get as much goodness into her as I could. This was complicated by the fact that, of the only three solid meals she had eaten in the last week (one breakfast and two dinners) she had brought back the two dinners the next morning complete. This suggested she may be having trouble digesting food because she is not chewing it so I will have to stick to soups and I have organised some pureed meals for the freezer.
Sunday was uneventful, I got regular food down her (in the form of soups with liquidised veg, fruit smoothies etc) and although Liz's physical and mental condition improved, neither was great and I had to get Liz's sister up to help me get her to bed – I had really struggled on Saturday night - and Liz was still too weak to walk at all.
All this was very worrying, and yesterday (Monday) I called the myeloma nurse and fortunately, because I needed another morphine prescription for her, our lovely G.P. paid a visit. He checked Liz over and declared her weak but well, reasonably well hydrated, and while she is a little confused about things, it is nothing excessive.
Its clinic today, so an early(ish) start to get Liz there for a blood test, then a wait as it's processed, then the doctors. Then, I suspect another wait until about 2 o'clock when there will be a bed available in the ward where Liz will have some of the spinal fluid extracted from her reservoir (a completely painless process) and, if we think Liz is strong enough, she will get what I think is her final dose of chemo. Another long, long day and if Liz gets the chemo I will have a sick, confused and disoriented Liz to bring home around 6 or 7 o'clock.
A distressing few days. The weekend was another break for me that deteriorated into even more stress than not going and I am feeling in need of a rest. Last week without carers, Liz's frightening condition over the weekend, and the prospect of a day hanging around the hospital all make it worse, so I will speak to the McMillan nurse later in the week about respite care for a few days and see what comes up.
There was good news at the clinic, Liz's numbers are all still down, although the magic number did show a small blip last time. She was cleared to have her final chemo which went through with much less trauma than earlier ones. She had a headache, but no sickness. Strange how each one has had very different side effects from the others.
Good though the numbers are though, she continues to get weaker, and I continue to get more and more worried about getting her to bed at night. The main difficulty is the star lift. Our stairs has two flights that double back on themselves, so ideally we would have a curved lift that goes up, round the 180 degree bend and up again. Not a real problem, although it would cost several thousands, but the real difficulty was that it would take five to eight weeks to get installed as each one is manufactured individually. When Liz came out of hospital in Nottingham we simply didn't have five to eight weeks, we needed it now.
While curved lifts are difficult, straight ones are no problem – you can even see them on ebay starting at 1p. If you have a ten foot straight lift you convert it to an eight foot one by the simple expedient of cutting two feet off. This means there is a ready second hand market, and this is where I went. I found a local company in Nottingham which buys in used (straight) lifts and sells them on, and they could get two separate straight lifts fitted, from stock, within two days. We got the stair lifts, but there is a four foot walk between them on the landing and it is this walk that worries me.
During the week, carers get Liz up and put her to bed and this is a huge relief to me. I have always done it at the weekend though, partly to keep costs down, but mainly because it was nice to have a couple of days entirely by ourselves with our own timetable. Last weekend was really starting to worry me though. I was anxious all Friday night and early Saturday morning and when I came to get her up my fears were well founded. I tried to transfer her the two feet from her chair to the toilet and she just collapsed on the floor. A dead weight is far too heavy for any normal person to get up so I needed help and fortunately Julia shot round. We got Liz back on her feet but it had really frightened me.
Julia got Liz dressed, and then she and Tago (who she had brought with her in case we needed more muscle) stayed for coffee and then went off. The second they had gone, Liz announced that she needed to go to the loo – my worst fear – another transfer. Nightmare stress. When I asked her why she hadn't said when there was someone there to help me she said she had been too embarrassed to say she needed the toilet.
At this point I am afraid I just broke. The stress was too much. I got the portable commode in from the garage and positioned it for minimum movement and got her on and off but something had snapped.
Fortunately Vicki was coming up for the day and she managed to look after both of us, but I was just dreading bed time, even with Vicki there and this, too, was justified. Liz collapsed again on the transfer across the four foot landing. Between us we managed to get her onto the upper lift, but she is a heavy weight (even in her current state), and the space is very limited. There is now little doubt that she now needs two people present when she needs to be moved.
All this started – as always – at the start of a bank holiday so it is very difficult to get in touch with the various agencies. Vicki worked the phone and a number of people arranged to call back but I was due to start a 48 hour respite on the Monday, and I desperately needed it.
On Sunday, I simply didn't get Liz up. I moved a tele into her bedroom (useful tip – an ironing board makes a passable television stand at a good height when you are in bed) and she stayed in bed all day. I had a nice piece of fresh fish in the fridge and Sam, our evening carer (and a gold nugget of a find) made us dinner, which we ate in the bedroom. A reasonably calm day.
However, it went bad. Liz was sick in her sleep at around 12:30 so by the time she woke up and called me everything was wet. Fortunately, I have been putting bed pads under the sheet so it wasn't as bad as it might have been, but changing a king sized quilt cover at 1:00 in the morning is not my idea of a good night. As I was very wound up by the time the bed had been changed, and Liz cleaned up as well as is possible without getting her to a shower, I finally got back to sleep around 3:30.
At 6:00 I got another call – Liz had had another attack of diarrhoea. Everything was a mess but, on the good side, Liz's mobility was sufficiently good that we managed to get her showered. She went back to sleep, and I washed a second set of bedding in one night.
At 7:00, though, the fate of my two day break was sealed. Liz was very suddenly in huge amounts of pain. Her arms hurt, her legs hurt, her neck hurt and it seemed that the glands below her ears were swollen. I had absolutely no idea what to do, and yesterday is such a blur that I can't actually remember, but as soon as it was reasonable, I called our friend Julia who has been a rock through all of this. She is medically trained and ran Liz though the basic numbers – temperature, blood pressure, respiration etc, and all was normal, which made an infection look less likely but raised the spectre of a more malign cause.
By about 10:00 Liz was really bad, just crying with the pain, so Julia called the McMillan emergency help line and they suggested hourly doses of liquid morphine (a supply of which I have kept from before she went into Nottingham in May). After three hourly doses this had made little difference, and it was heart-wrenching lying with her in so much pain and being so utterly helpless.
One suggestion then was a sedative – also difficult with no access to a doctor on a bank holiday but – oh happy chance - I still had some left from Liz's radiology treatment. We slipped a tablet under Liz's tongue and over the next half hour she slowly slipped into a doze. The pain didn't get any better, and Jo or I had to sit with her throughout, but she was more comfortable. A relief all round. (An aside. This, with the liquid morphine, was twice in one day so the moral here is clear – when someone is really poorly, hang on to the drugs – you never know when you might need access to a pharmacy. Obviously don't be silly enough to prescribe yourself though).
One of the problems was that the right side of Liz's face was hugely swollen, and it was extremely painful to swallow so Liz was drinking pretty much nothing. The only fluid going down was (and indeed still is) the sips she was taking with her medication. Dehydration was a looming problem. However, dehydration meant a drip, and a drip meant a hospital bed somewhere. However, none of us wanted that somewhere to be the Medical Assessment Unit at the Royal – a madhouse at the best of times, Bank Holiday Monday was never going to get close to the best of times. And, busy as it was, there was no guarantee that she would see a doctor much before midnight anyway.
So after a couple more phone calls to McMillan, a mobile GP was summoned to look and Liz and assess the dehydration risk. He appeared in a remarkably short time and diagnosed a blocked saliva gland. Nothing to do with the myeloma and probably brought on by reduced fluid intake over the last few days (it has been very difficult to get Liz to drink – she insists she is still drinking a lot but she just isn't). This was a cause of much relief, but a blocked saliva gland will often clear itself over a 48 hour period – so we must wait.
Liz was nearly impossible to wake at about 10 for her night time pills, but with considerable difficulty, we managed to get some of her pills down – the more important ones – and another sedative under her tongue. She slept through the night – is still asleep – but very restlessly. Much, much better than being without the sedative though.
Our GP will be informed this morning, so we may hear from him, and the McMillan nurse is coming at around 4 o'clock. Dehydration is a rapidly growing problem so who knows what the day will bring…..
Our GP will be informed this morning, so we may hear from him, and the McMillan nurse is coming at around 4 o'clock. Dehydration is a rapidly growing problem so who knows what the day will bring…..
The day brought a visit from the McMillan nurse who very quickly called an ambulance and by Tuesday night, Liz was back in the Royal Derby and being rehydrated.
This entry will be short because I am very pushed for time, but to cut a long story short, the blocked saliva duct had become infected, and the infection had spread. Liz was very poorly indeed. Over the next few days, she was given large doses of antibiotics and by the end of the week the infection had cleared up, but, as you can imagine, it has left very very weak indeed.
Weakness, however, is not a good reason for occupying a hospital bed, so on Monday she will be coming out. But - unfortunately she is so weak I can no longer manage her care so she is going into a local care home where they have the medical knowledge and the number of people to care for her. It is only 5 minutes from home so I shall be there most of the time.
Sorry to say that visitors will remain a problem for the time being. Liz will need to be much stronger than she is and we are entering a new phase of her care which needs to settle down.
I will let you know how things progress.
Thursday 5th September. 06:00.
On Monday, as we had hoped, Liz was moved from the hospital to a local care home where she is receiving the nursing care she needs.
Before she left, our myeloma contact nurse, Christine - who has been a great source of support over the last 18 months, but who had been on holiday last week when all this kicked off - came to Liz and just sat and quietly chatted for about an hour. Nothing special, just this and that, the twins, her upcoming wedding – anywhere Liz led the conversation. She is just lovely.
Then the nursing staff on Ward 302 were fantastic. The nurse in charge ("Ward Manager") was absolutely determined that paperwork - and boy, was there paperwork - was not going to stop Liz going on Monday. Hazel moved heaven and earth to get it done even when it finally required her to get an assurance from me that I was happy to provide Liz's medication until the correct authorisation had reached the nurses in the home and they could take over. She did really well and Liz transferred just after midday on Monday.
It was important for me that she transfer on Monday because Vicki was here, and I was always going to feel terrible the first night after I had left Liz to the tender mercies of unknown care staff in an unknown care home. I needed support, and Vicki would be there on Monday night and Tuesday morning. However, the twins go to school for their first day today (Thursday), and Vicki desperately wanted to be there for that, so I had already told her that she had to go home, by Tuesday evening at the latest, in order to get everything ready – she had been here since Saturday.
As an aside, Vicki had brought the girls' new school uniforms up and on Saturday when they visited Liz in the hospital, she got them all dressed up in them so granny Liz could see them. You can just imagine the effect of marching two beautiful 4 years olds, in their first ever – and rather largish – school uniforms into a ward full of middle aged women. They then further endeared themselves to the ladies of room 1 by doing granny Liz's fingernails. Rainbow again, but it hasn't stopped everyone admiring them ever since.
Vicki and the girls spent some time on Monday morning preparing Liz's room with loads of flowers and lots of photos from home so it was very welcoming when she got there. But - on Monday night I left Liz. The staff had been attentive and helpful and everything we could have wanted but nevertheless, I was abandoning the woman I love…….
Tuesday morning was critical – how was Liz? What would I do if she were crying, just wanting to be out of there? I was stressed out of my mind. In the event, when I got there she had got herself into an awkward position in the bed and had seized up a little but when she woke she was saying "I can't move". I panicked thinking she might be paralysed and called a nurse. In the event of course, Liz was fine and had just been too long in an awkward position but it didn't stop me weeping. The tension was getting to me, I was emotional and very weepy all morning.
As Tuesday wore on we both became more relaxed and by the evening we were both a great deal more content. Wednesday was even better. Liz was bright and chatty, in the morning we had breakfast and read our papers, and in the afternoon we sat holding hands watching Breakfast at Tiffany's together. We agreed that we were both more relaxed than either of us had been for months and months, so the home is doing it's job.
The ethos of the place is quite a surprise. The staff do seem very concerned with the contentedness of their guests. For example, there are fully qualified nurses in attendance 24/7 but they will quite happily take an order for a cup of tea – there is none of this "I will get someone to take your order" – whoever is there does what is needed. Very reassuring.
I am working on a routine that allows me to be with Liz as much as possible while, at the same time, continuing to function in the outside world. I try to get there for breakfast (which the home is happy to provide for me at no extra cost), I give her her medication, and I stay as late as I can. At the moment Sam (my carer) comes in to do my evening meal at 6:30, which is a bit too early, but she has other commitments which mean she can't be later. Liz and I always got on very well with Sam, who is a delight, so I would love to keep her on but working to a 6:30 meal will be difficult. This is one of the many things that we have to sort out. Interestingly, it is in fact cheaper to pay for Sam to come and do my evening meal than it is to go out to the pub for dinner…..
Liz now seems quite content, although she is still quite easily confused – so she simply cannot remember how to use her phone for instance – and she is still very, very weak. All this means that visiting is still restricted pretty much to family, and cards are still best sent here to the farm as she can't manage to open them. She does love to get them though so, if you can, please send a card or a letter as it makes her day.
A lot has happened in the last two weeks, so if you haven't seen it, start here.
A quick update, although there is very little to report. Liz remains content but a little confused, and very, very tired - she sleeps well at night, and will often doze and nap for three or four hours in the day. She has also lost a great deal of her short term memory, we think, probably as a result of the heavy radiotherapy earlier in the year. She is unaware that she can't walk for instance and has to be reminded when she tries to get out of bed, she also talks about "needing a physio when I go home", and of course there is no good reason to disabuse her of any of this.
I spend as much time with Liz as I can. I get up at 6:00 usually (4:30 this morning – couldn't sleep), and it is then a bit of a rush to get through the morning ablutions, pay any bills and generally keep the good ship Chisman afloat, sort out any washing, grab a bit of breakfast, and get down to Morrisons for their 8:00 opening. There I get a sandwich for my lunch, some fruit for Liz, any other shopping that is needed, and the latest copy of Hello magazine if there is a new one. (Hiding Hello magazine is one of the very few reasons I can think of for me to buy the Guardian!)
I then head off to the care home to get there between 8:15 and 8:30 so, most of the time, I am there when she wakes up. We sit together through the day, read the paper, watch a movie, and just be quiet in each other's company – something we have been unable to do for many months. People pop in now and then with food, drinks, and pills. Others come in to help Liz wash and dress and perhaps get her out of bed into a special chair she uses. It all passes very pleasantly and reminds us both a little of being on holiday. Neither of us can remember being quite so relaxed for a long time. As a friend said having been through a similar experience a couple of years ago with her husband – "Having others care for him allowed me to stop being a carer and to start being a wife again". That describes it perfectly.
At the end of the day, between 6:30 and 7:00 I leave to get home as my carer comes in to prepare my evening meal, and perhaps do a bit of ironing. By 8:30 I have eaten, so I get an hour to do anything else that needs doing, a few minutes unwinding in front of the television, and bed at 9:30.
My day is almost entirely spent with Liz, and time at home not spent asleep (or trying to sleep) is short and frantically busy. This makes it difficult to keep the diary up to date so unless things change I will not update this diary as often as I have in the past.
The view from Liz's room across the Derwent valley to Duffield.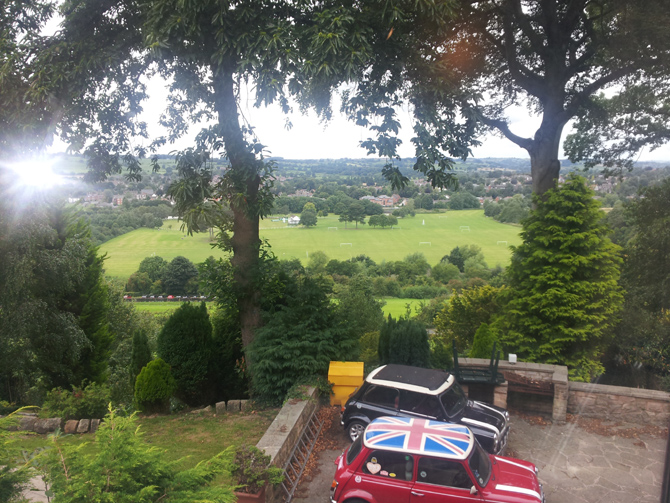 Liz's new hat.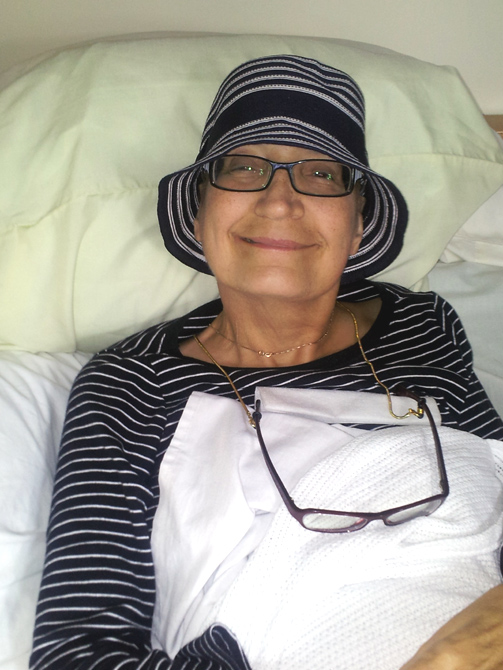 Quick update. The Doc came yesterday and isn't too worried. Liz's confusion is beginning to bother her a bit, but it's probably down to the cocktail of drugs that she is on. It would be nice to cut it down, but then the pain would return.
Our routine hasn't changed very much. I get in there between 8:15 and 8:30 having visited Morrisons for a lunch time sandwich and a couple of pots of prepared fruit.
When Liz wakes up, we have breakfast (I can eat there whenever I want to – free) and then sit and read the papers. The carers will come in at some point in the morning and give Liz a wash and get her dressed. Then lunch appears, and after lunch we will sit and watch a movie or old episodes of Downton. Liz's high tea is delivered about 5:30 and an hour later I head off for my tea and bed.
The afternoon will often, obviously, include a nap for both of us. What a life eh?
As before no news is good news.
Still not a lot of change but the general direction is downwards I am afraid. Liz remains quite confused, and she did have a couple of very bad days last week.
On Monday they took the syringe driver off as the sites for the needle were getting very sore. They switched Liz back to the tablet form of morphine and she was OK for a couple of days, but on Thursday she went badly downhill and on Friday it was even worse. Not only could she not find any words, it was agitating her greatly. She was in tears over her inability to say what she wanted to say and try as I might, I couldn't calm her. Prayer with her minister and a good friend from church helped, but she was very upset.
The doctor was summoned and he put her back on the syringe pump as the form of morphine used in the pump (diamorphine) gives a feeling of well-being as well as pain relief. (Diamorphine is a heroin derivative so basically a gentle high, but the medical term is well-being). To the morphine he added a small amount of sedative to calm her down, and it worked like a charm.
On Saturday morning after a disturbed start to the night, the drugs cut in and she was fine again – or at least as fine as she had been on Wednesday. However, on Sunday she had regressed a little, and I'm not sure what happens when the syringe driver sites start getting sore again.
Days are sometimes up and sometimes down but the general trend is definitely down as the symptoms of dementia become ever more apparent. She still recognises people, but holding a conversation is difficult, and she will sometimes just sit and stare vacantly at an object on the bed. It breaks my heart.
A difficult week, unfortunately frequently focused more on me than on Liz.
Last Sunday (22nd) was a beautiful day and I wanted to see if we could get Liz out on the terrace in the sunshine for one last time this year. The carers agreed it was possible, but they were short staffed and couldn't promise when they would be able to get Liz back to bed afterwards. Unfortunately, when Liz has had enough of her chair she has had enough and needs to get back in bed pretty quickly, so, as the nice spell was set to last, we postponed until the next day.
Monday 23rd was misty all day, and the sun never broke through, so we didn't get out on Monday either.
Tuesday 24th was lovely again and I was very anxious to get Liz outside, and indeed we managed it. I pushed her out into the glorious sunshine just before 3 o'clock and there we sat until about 5. It was wonderful, and would have been perfect had it not been for the fact that I was so desperately tired. All I wanted to do was to lie down somewhere and shut my eyes. I am not one of those fortunate people who can sleep sitting up – never have been able to, never slept on a plane, for example – and I desperately needed a rest. Pretty much as soon as they got Liz back to bed, I left and went home to lie down. At about 8 I went to bed with a temperature of 38, two paracetamol, and a sleeping tablet. I slept well.
Wednesday 25th was a bad day. Because I had been so tired I turned the alarm off so slept late, but woke up with my temperature normal, and was late in to see Liz. She, of course, picked that day to wake up early and was quite distressed that I wasn't there. She was also very confused and a bit later on started to develop nerve pain in her hands and legs. It got worse and worse but all they could give her was liquid morphine which doesn't really affect nerve pain, and by late morning she was crying with the pain. The nurses, who are constrained to provide only what a doctor has prescribed, had a call in to the doctor and early in the afternoon, one of them gave Liz an injection of sedative which worked very quickly and sent her off to sleep. I sat with her until about 6, when I left. After a hugely stressful day, again, I went to bed about 8 with a temperature of 38 and two paracetamol.
Thursday 26th started well - I had no temperature, and Liz woke at her normal time with no trace of the pain. And while she was bright and eating and drinking well, she had absolutely no memory at all of the previous days pain. Apparently the sedative can do this. I was still desperately tired, but I had to hang on as the doctor was due to see Liz and I needed to be there in order to ensure that a plan was in place to deal with the situation should the pain reoccur at any time. She (the doctor) eventually turned up and we agreed that Liz should have access to the same sedative she was using for her radiotherapy as I knew this worked and didn't involve what had been a very painful injection. The doctor confirmed that I had a temperature and she, and the nurse, told me in no uncertain terms that I had to look after myself. Again, bed about 8 with two paracetamol.
Friday 27th. I woke up feeling pretty crappy, and I knew I needed some time off so I tried to organise someone to sit with Liz while I did the guy-who's-poorly thing – lying on the sofa going "oh dear, oh dear". After a few phone calls we got it sorted and I came home about 11 o'clock and did just that. Dozed, just lay there, dozed, did a bit of washing, dozed and so on. Mostly though, I just lay there with my eyes shut resting my brain. Sam prepared my dinner but I wasn't all that hungry, and shortly afterwards, yet again, bed about 8 with two paracetamol.
Saturday 28th I again awoke feeling under the weather, but I got in to Liz at about 9, before she was awake. Her nephew and niece (Kate and Dan) came up late morning and Liz enjoyed that – there was a great deal to catch up on with their career and travel news. Sister Jo relieved me at about 12 as Vicki, Naresh and the girls came up and I spent a few hours with them. Not as relaxing as lying on the sofa going "oh dear, oh dear", but a change anyway, and a nice afternoon having "adventures" with my two four year old granddaughters. Liz seemed fine, and seemed to enjoy all the visits, even though there was a lot more activity than normal.
While Liz is much the same, just a little worse, I am obviously completely exhausted and need to rest - but it needs organising and leaving Liz to others is a difficult thing to do. I know, I know – I need to look after myself and that is what I am trying to do.
I may be able to get a couple of days off next week – let's see what happens.
Tuesday 24th on the terrace.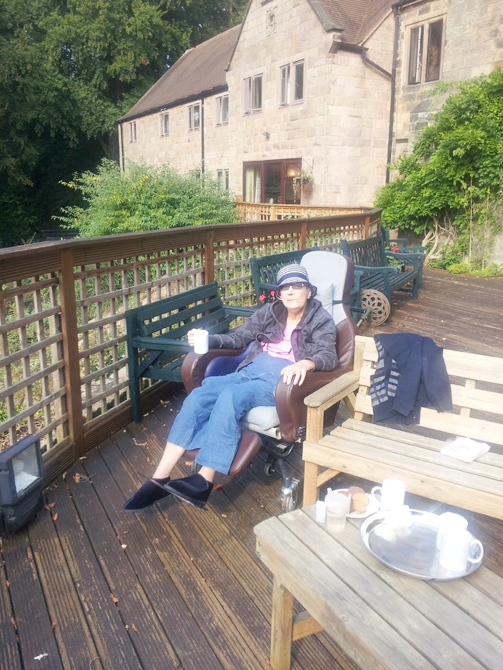 Last week was a bit of a blur to me. Friends and family rallied round and arranged for me to be relieved at around 4:00 each day so I could go home and rest a little, and over the weekend I was relieved entirely and sent down to the south coast to stay with my brother. Three days of absolute rest, sitting in expected sunshine and dozing off when I wanted to. It did me a power of good.
Plans are now in place to give me one day a week when I don't have to fall out of bed at 5:30 – 6:00 in the morning, which will be a blessing, and to relieve me most days at around 4:00 which will also help. I hope this will be enough to prevent me getting in the sort of state I was in two weeks ago. Much thanks to all those involved – it is really appreciated.
Liz hasn't changed hugely, she has up days and down days, and while she was very pleased to see me again this morning after my weekend off (as indeed I was to see her) she was very dopey all day. It is difficult to tell what may be the cause, and I have little to judge by having not seen her since Thursday afternoon, but a urine infection is a possibility.
There was some blood in her urine last night which may be an infection or it could be that Liz told the nurse that the catheter was uncomfortable yesterday and, although she (the nurse) couldn't find anything wrong, she was fiddling about for about half an hour. However, the output was passing clear this morning but nevertheless, the doc decided to prescribe some antibiotics anyway in case an infection is present.
Not much more to report, but I will keep this updated from time to time.
I noticed quite a change in Liz this week, and unfortunately, not a good one.
Over the weekend, when I was away, she has become noticeably more confused. The trouble is that she makes a huge effort for any visitor, so they report her being "bright and chatty although not always making sense". Once they are gone though, she is exhausted and will lie back in the bed talking almost to herself, certainly lost in a world of her own which bears little relation to the world in which the rest of us live. It is very hard making out what she is saying anyway, and even if you can make out the words they rarely make much sense. It is both exhausting and heart wrenching.
The other thing that happened over the weekend is that she has lost the ability to feed herself. Her right hand no longer appears to do exactly what she wants it to, although that is hard to ascertain, and she loses focus very quickly. So now she needs to be fed, and drinks are with a beaker with a spout. Again, heart wrenching.
She also sleeps a huge amount – usually most of the morning and / or most of the afternoon. According to the McMillan nurse, this is to be expected, but it means that getting enough fluid down her is becoming an enormous problem, and failing leaves her prone to urinary infections.
And the irony of all this is that her hair is definitely growing back. I am certain that the radiologist – or somebody - said that it was most unlikely to grow back after the treatment she had but there it is, growing. It is still very short – it will be a week or two before she has the "Greenham Common Protester" style - but she has hair. Just at the point where she is past realising anything much at all. So sad.
For my part, I have been relieved each day this week at about 4:00 and Sam sat with Liz on Tuesday morning to give me a morning off. This is a great success and has made a noticeable difference to my life so I hope to keep it up and avoid getting in to the state I was last week (was it really only last week???).
So not a great week, but I guess no one is expecting many great weeks at this point.
I think that, if nothing out of the expected happens, this diary will be updated on Tuesdays now as that is my "morning off". Sam sits with Liz until about 1:30 which gives me one morning in the week when I don't have to get up at 5:30 – 6:00, and a bit of time to get other stuff, such as this, done.
Liz continues to deteriorate slowly – most days she is now sleeping though both the morning and the afternoon, waking only to eat something at mealtimes. And try as I might, she can't be woken – neither for tablets nor visitors. Yesterday, though was different. She was awake, bright, lucid and rather more self-aware than I would have liked. The GP called on a regular visit and when asked how she was, Liz replied "I mostly talk rubbish". That really got to me. I can cope with her being confused because, while it is not an easy experience for me, it means she is unaware of what is going on. This seemed like a sharp reversal.
She was also getting hallucinations – quite nasty ones – apparently a not uncommon experience in her position. She shot up in bed at one point, flailing wildly at the bedclothes shouting "get them off, get them off". Big black "things" were apparently crawling over the bed. She had several others during the day and it is difficult to calm someone having such hallucinations as they are very real. I know, I had them myself on one hospital visit when I was on morphine. In the end, at around 4, I asked the nurse to give Liz a sedative so that, if we couldn't eliminate the hallucinations, we could at least calm her and according to Catherine who stayed with her from 4 it seemed to work. Yesterday was a tough day.
In some ways sleeping all day is easier, but it is another sad step on the road. Both the McMillan nurse and our GP have said that, as time passes, she will probably sleep more and more. And it has to be said that, given the ways this disease could have attacked her, there are many worse ways that she could go and we have to be grateful for that.
No major change to report, more just bits and pieces.
You may remember that Liz was having nasty hallucinations last time I wrote. To tackle these, the doc changed the sedative in her syringe driver to one that should help reduce them, and reduce the agitation the accompanies them, and it seems to have worked. Odd ones pop up now and then, but generally not as bad as they had been.
Each day is different – yesterday for example Liz slept the entire day, waking only for meals. Last Thursday though she was quite bright and loving when she woke which was very nice. She ate more of her porridge than usual, I got a goodly amount of water down her, and she had a hand & foot massage, but after all this activity, she went to sleep, waking briefly for lunch, and then slept until I was relieved at 4.
Last Friday she woke up in quite a bit of pain but couldn't tell me where it was (she struggled to find the word "legs") nor from 1-10 how bad it was. Judging from her facial expressions it was probably 7. I was distraught, Liz was in quite a lot of pain, but I didn't know where, I didn't know how bad it was and she couldn't tell me. It makes you realise how difficult it can be when someone just loses the ability to communicate. However, we located the pain in her thighs, where some massage helped and she had some liquid morphine which seemed to cut in within the hour and then she went to sleep again.
On Saturday, Liz was awake and chatting when I got in, but, after doing a bit of massage, I had the feeling that she can't feel her feet. I don't want to worry her by pressing it but I need to establish whether she can or not without actually asking her.
There was an accident on Friday night with a leaking catheter and although it was all cleaned up, when I went in on Saturday the room stank to high heaven of wee. The carers had given Liz a good clean and changed all the bedding but the carpet needed doing too and the weekend cleaner had only been there a week and couldn't use the carpet cleaner. However, they promised to give the room a good "do" but they needed Liz out of the bed, so they got her up and into a chair which meant breakfast in the dining room which was a nice change.
The difficulty is that Liz starts to get uncomfortable after about an hour in a chair and they are not used to taking folk back to their rooms till evening. So after breakfast, there I was, sitting with Liz, who was increasingly uncomfortable, desperate for a toilet, and I can't get anyone interested. Huge stress. Then she was sick. It's happened a few times when she's up for too long – but at least they got her to bed, and I think it has now sunk in that if Liz gets up it can only be for a short while.
The room still smelt of wee over the weekend, despite spraying the carpet with a good dose of Febreze several times, but on Monday there were difficulties synchronising getting Liz out of bed, followed by carpet cleaning, followed by Liz back to bed (the carpet cleaner is large and very, very noisy). In the end a good old fashioned cleaner came with a good old fashioned scrubbing brush and gave the carpet a good old fashioned scrub. It smelt better yesterday but I will know when I go in later today whether it has really worked.
Getting fluids down her remains a problem though. She should be drinking about 1.5 litres a day and on some days I am only doing 10 - 15% of this, but I can't do anything about it while she sleeps so much.
There were some good parts to the week.
We did watch quite a bit of TV, so we are nearly bang up to date with Strictly (oh joy), Downton and Doc Martin, and on several days she managed her own drink from the beaker and generally seemed more in control. I got the electric reclining armchair moved from home so sitting is now extremely comfortable and I actually nodded off completely a couple of times last week which is a huge improvement for me and for the others who sit with her.
Over the weekend brother John and his partner Keith (who hasn't seen Liz for ages) were over and spent a couple of hours with her. Sister Jo was over her cold and came up with niece Katie, and Vicki came up and sat for a couple of hours. (A sad aside there though – Vicki and Liz had been plotting as they tend to around the time of my birthday. With Machiavellian machinations, a birthday present for me had been procured and the idea was that the two of them would give it to me as a joint effort on Sunday. However, Liz slept resolutely right through Vicki's visit and the intended culmination of all that planning slowly slid by).
Not good new I am afraid.
Liz has been asleep pretty much solidly since Sunday afternoon. Initially it was possible to put this down to a busy schedule of visitors over the weekend, but she was still asleep this morning. Not only asleep, but almost impossible to rouse. When she did show signs of waking, she couldn't really speak and what she did say made no sense.
According to the McMillan nurse, this is the final stage of Liz's disease, and one that she has spoken to me about previously. Liz will gradually sleep more and more deeply and at some point – probably in the next two weeks (how long is a piece of string?) – she will slip quietly away. Let us hope fervently that it works out that way as slipping quietly into an ever deepening sleep is a great deal better than some of the ways this disease could have worked.
I am not as upset by this as might be expected because she is peaceful and not in pain, she is being cared for well, and she has seen all her nearest and dearest in the last few weeks, but mainly I think because I have been preparing for this moment for the last two years. The way the myeloma came on so aggressively back at the start of last year made me permanently frightened that it would end this soon, and this has been that second shoe dropping. At each stage of the progression I have wept a little and felt sad a lot and so, for me, this is just the penultimate step in a very sad, but inevitable, march.
I am getting wonderful support from Vicki, from Liz's family, and from local friends, and that is making a huge difference. I will keep you updated.
Just a quick update. Liz has deteriorated very slowly over the past 6 days, and is now asleep pretty much the whole time. I say Liz, but to be honest, there is not much of what I know as Liz left, but she was always a fighter.
Last night at about 9, I got a call from the nurse to say that she was a long way from certain as she hadn't been there for a couple of days, but I might want to come in. I did so, and stayed with Liz all night (the reclining armchair made it quite comfortable, and went pretty much flat so I got a lot more sleep than I was expecting). Although Liz didn't change much overnight, the end is now very clearly near and we are organising a 24 hour vigil with her family.
A sad time, but I will let you know when things change.
If you haven't read this diary for a week or so, you might be better starting here.
We have been sitting a 24 hour vigil with Liz since Monday night. On Tuesday night her breathing deteriorated badly, most of her time was spent either trying to clear her throat (in vain because she doesn't have the muscle power for a good cough) or catching huge breaths between intervals of not breathing at all. Normal breathing only occurred occasionally and didn't last long. I spent most of the night fearfully watching her chest, willing it to rise – which despite my worries it always did.
Yesterday, the doctor changed the make up of her syringe driver and last night and this morning her breathing was far more relaxed. The throat clearing had gone (because the need for it had gone – no more throaty rattles) and she was breathing normally for most of the time. A change very much for the better.
Unfortunately it appears that she may have developed a temperature, and her ability to fight an infection, if that is indeed what it is, will be almost zero, so we are again on tenterhooks.
I am doing the night shift tonight - 11 till morning - and it will be difficult. I find myself constantly flipping between denial and despair. Denial is by far the easier of the two to live with – it enables to look after Liz and carry on with the normal business of life, but I cant always keep it up.
When things were better, Liz and I would sit in our sun room in the morning after breakfast with the paper and read bits out to each other. Funny bits, the latest nonsense from Brussels, interesting snippets etc, and it was something we always really enjoyed. Now, I read a bit I the paper and think that I am never going to share anything with Liz ever again. Flip. Despair.
Then again, I checked the disk drive in the Humax box in Liz's room this morning to see if it was filling up. It wasn't but there, sitting on it, are the last three episodes of Downton that we will also never share. Flip. Despair.
It always takes me by surprise and I can't let Liz see me in despair – it would cause her great stress. I know that this is going to get worse before it gets better and I know that I can rely on my two families to help, along with several good friends, but the despair is not a good place to be, and denial is just that, denial.
Sorry if this is too much information, but it helps me to write it down and get it off my chest.
If you haven't read this diary for a week or so, you might be better starting here.
Am sorry to tell you that Liz died this morning, Friday 1st November, at 6:20.
When I got there last night around 10:30, she had obviously deteriorated during the day. Her brow was sweaty and her breathing rapid, shallow and raspy. I felt that the end was very near. I sat with her all night, but failed to stay awake, and dropped off to sleep somewhere around 4 o'clock. The nurse woke me just before 6 having noticed a change in her breathing.
I went to her, held her hand, stroked her head and spoke to her. She responded immediately by reducing her breathing to about half the speed. She had been waiting for me to wake up and come to her. She relaxed, breathed more easily and over the next 20 minutes I comforted her, and she slowly went. Given that it was always going to happen, it could not have been more comforting for either of us.
I will keep this site up to date with details of the funeral and so on.